Boston-Power and Darfon enter 3-year battery supply agreement to target global residential solar storage market. Initial product launches in Australia and the UK.
WESTBOROUGH, Mass. and BEIJING, CHINA April 29, 2015

Boston-Power Inc., an industry leading developer and manufacturer of lithium-ion batteries and energy storage technologies, today announced that it has entered into a 3-year exclusive supply agreement with BenQ Group company Darfon Electronics Corp, a leading global precision components company whose products include power inverters and systems for renewable energy applications. The two companies have initially committed to supplying 150 MWh of energy products.
Addressing the threat of global warming and promoting energy independence are key drivers in the development of economical renewable energy storage solutions. Battery performance and cost have long been key limitations to widespread adoption from electric vehicles to stationary storage, but recent advances in the industry are opening the door to cost-effective solutions.
"Boston-Powers development of long-life, high-energy density lithium-ion technology, combined with our commitment to expand high-volume production which leverages improving industry costs, enables us to deliver high-quality solutions with a clear value proposition for the residential storage market," said Boston-Powers CTO, Rick Chamberlain. "We are excited to have established a partnership with a company the caliber of Darfon and to be taking this first step in support of their leadership in this market."
By using Boston-Powers lithium-ion cell technology, Darfon is able to offer compelling differentiated solutions which benefit both homeowners and installers. Darfons new storage solutions are initially targeting the Australian and UK residential solar markets with a 5 kWh capacity product. Customers will store energy from their solar panels and then use it to reduce household electricity consumption during high-priced peak hours as well as power back up during emergency conditions when the grid is not available.
ABOUT BOSTON-POWER
Boston-Power is a developer and manufacturer of next generation lithium-ion battery cells, blocks, modules and systems. Designed to fuel a wide range of applications, its flagship offerings, Swing and Sonata, serve as the foundation for a new era of longer-lasting, faster-charging, safer and environmentally sustainable batteries. The company's Swing product delivers unmatched capabilities for Battery Electric and Plug-In Hybrid Electric Vehicles (BEV/PHEV), and energy storage applications. Sonata delivers industry leading performance to a wide range of portable power and industrial applications.
Boston-Power is a global company with R&D centers in Westborough, Massachusetts, USA and Beijing, China, and mass manufacturing operations based in Asia. The company is funded by top-tier venture capital firms GSR Ventures, Venrock, Foundation Asset Management and Oak Investment Partners.
Featured Product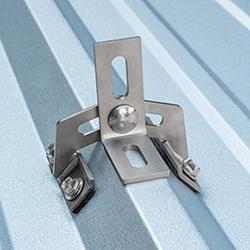 Error-Proof Compression: The QB2 doesn't leave any room for user error when it comes to Microflashing® compression. Once the Dual Drive Shoulder Screw is secured, the Microflashing® is compressed. Only 3 Components: The QB2 is comprised of Microflashing®, an L-foot and a Dual Drive Shoulder Screw. No more Nuts needed to tighten and secure the L-foot! Not only does this simplify the installation process, it also cuts down the installation time.