Let's not recognize or predict future. Let's create it like we need it! -Would you also agree that PV-Systems designed and installed without deeper knowledge and experience are a pity? A tremendous waste of energy and money? - Would you agree that solar education is necessary to avoid costly mistakes? - How would it feel to serve your country with endless, clean and independent solar energy with knowledge and have success with it?
The training is designed to empower the participants to work in the Solar Energy Sector. This training is necessary to take the right decisions and be able to plan, buy, install and operate infinite, clean and independent solar energy systems

In 2 days, you will know about:
1 the principles of isolated PV systems
2 system analysis of DC and AC connected systems
3 introduction of the essential components of isolated
4 Off Grid essentials:
- energy production
- energy storage
- storage management
- load management
5 the planning and design of off-grid systems based on
selected examples
- load analysis
- system efficiency
- PV-Generator design
- DC connected isolated photovoltaic systems
- AC connected isolated photovoltaic systems
- battery design
6 practical exercises with individual and group tasks
- design tasks
- battery price calculation
- comparison of batteries
- choose charge controller and inverter
7 introduction to the conceptual world of off-grid systems
8 various applications in detail
- description of problems
- presentation of various possible solutions
- information on technical characteristics
- planning tips
> back up systems
> fuel saver solutions
> pump technology
> lighting technology
> solar home systems
> stand-alone solutions"
> small applications
9 summary and outlook
10 brief test and certificate award
5% Early Bird discount
(30 days prior the event)
20% if you book all four PV courses!
Don't miss it, register now!
Featured Product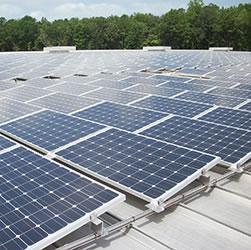 The Power Rail™ Commercial Mounting System is designed with the professional PV solar installer in mind. Both the XD/UD and LD/MD rails feature single tool assembly with the revolutionary patented RAD™ Lock-in-Place bolt for fast and secure module clamping. The high strength marine-grade aluminum rails include an integral wiring channel for securing cables and providing a professional finish.