A new product from leading renewable energy underwriter enables owners and operators to unlock excess project capital and manage long term O&M cost
New York, May 18th 2015 - GCube Insurance Services Inc, (GCube) the specialist renewable energy underwriter, today launches Beyond Balance Sheets: Unscheduled Maintenance Protection. This unique, first-to-market service enables financial directors and risk management teams to more effectively manage their long-term operations and maintenance budgets and rapidly reduce the requirement for excess working project capital.

Project owners now take an increasing interest in managing long-term operations and maintenance (O&M) activity by reducing the costs incurred through a reliance on the Original Equipment Manufacturers (OEMs). Accordingly, financial directors and risk managers must address the growing challenge of ensuring the cost of such an activity is properly managed and fixed on their balance sheet.
In light of this, GCube has spent three years developing a specialist financial risk and insurance product that directly tackles this challenge. By locking in the cost of O&M wind farm activity and effectively securing the entire expense over a three year term, capital is quickly freed up to be used for other business critical activities.
For the owners and operators the product provides long-term peace of mind to the senior management team.
Key insurance policy benefits include comprehensive protection from serial defects experienced across a project, business interruption, mechanical and electrical breakdown and cover for replacement parts, repair and reassembly.
"Now more than ever, U.S. project owners and operators are moving maintenance 'in-house or are using third party providers to tackle and address long term operational needs," said Fraser McLachlan, Chief Executive Officer, GCube Insurance Services.
"However, while this significantly reduces the reliance on the Original Equipment Manufacturer (OEM), it has the resultant impact of tying up significant capital in operational projects due to unscheduled maintenance costs that have not been budgeted for. By smoothing these costs we free up cash to allow developers build and expand their wider project portfolios. Its because of this, that weve prioritized the development of this product, thereby demonstrating the clear way in which the insurance markets can provide a positive impact in the future evolution and expansion of U.S. wind."
GCube Insurance was established over two decades ago to tackle and address the construction and operational needs of the very first wind farms in North America and Europe. Today GCube Insurance is the leading insurance underwriter to the wind, solar and wider renewable energy industries around the world.
With over 30,000MW of projects insured, GCube Insurance understands the need for innovative insurance solutions that mitigate development, construction and operational risk.
The new insurance service, Beyond Balance Sheets: Unscheduled Maintenance Protection, is available for selected developers and owner operators subject to a thorough underwriting review of the project portfolio. For more information, contact info@gcube-insurance.com.
Featured Product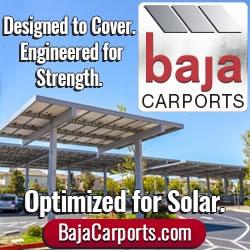 Baja Carports offers an extensive solar support system product line customized to customers' site specifications by in-house engineers, meeting their parking lot coverage, plus optimal PV production needs. Baja's Full Cantilever Tee is often paired with its Semi and Full Cantilever carports to meet live/loads up to 60psf and wind speeds to 160mph. All Baja products are pre-fabricated, bolted connections, pre-galvanized structural steel for fast on-site installation and project aesthetic requirements."