The new Tesla Powerwall could become the answer to lower energy costs for thousands of new home owners in the desert area surrounding Palm Springs, CA., where new home builder, GHA Companies, is always looking for ways to make their new homes more energy efficient and lower electricity costs for home owners.
La Quinta, CA May 15, 2015

In a recent announcement by Elon Musk, the energy pioneer CEO of Tesla Motors, the new Tesla Powerwall was introduced to the world as the solution for the future of energy. His opening statements made it clear he believes the Powerwall has the capability of making the entire world free from fossil fuel dependency. Following the announcement, Mario Gonzales, the CEO of GHA Companies stated, "The Tesla Powerwall represents an advancement in energy technology that fits perfectly with our desire to deliver new homes in La Quinta that are more energy efficient. The Powerwall will give us the capability of designing new homes with an energy storage system that will substantially reduce energy costs and lower the dependency on older systems that are harmful to our environment."
Why do new homes in La Quinta need the Powerwall?
Currently most of the worlds energy is created in huge energy facilities that burn fossil fuels to create electricity. The side effect of this is the damage to the air, the health of humanity, the buildup of CO2 in the atmosphere and of course the filth and damage to the environment around these massive industrial plants.
The Powerwall, a new design in batteries, promises to change all of this. It is 33 inches wide, 51 inches tall and only 7 inches thick. It comes in 7 different colors and hangs on your wall like a piece of artwork. It charges up using electricity created from solar panels or off of the grid for use later or as backup electricity. In short, it will begin the elimination of power plants and move the world toward living off of the free energy of the sun.
The advantages of the Powerwall.
Stores Energy: Most homes use more electricity early in the morning or in the evening instead in the middle of the day when solar energy is plentiful. If you have a solar home, your excess solar energy is often sold back to the power company who sell sells it to back to you in the evening. The Powerwall stores energy during the day and makes it available to you in the evening when you need it.
Avoid High Rates: Power companies often charge a higher price for electricity during peak evening hours than overnight when demand is low. Powerwall can reduce your power bill by storing electricity when rates are low and powering your home when rates are high.
Energy Security: If there is a power outage, Powerwall will take over and provide free energy to your home. If you live in a remote area, or where storms are prevalent, this could be a big advantage and peace of mind.
Capacity:. Powerwall is available in 10 kWh weekly cycle and 7 kWh daily cycle models. Tesla guarantees both units for ten year and claims both units are sufficient to power most homes during peak evening hours. Multiple batteries may be installed together for homes with greater energy need.
GHA Companies has been building energy efficient homes in the Palm Springs area for over 30 years. When asked about the Powerwall, Mario Gonzales added, "We will take a good look at the Powerwall and its many advantages for our new home owners here in the desert."
Featured Product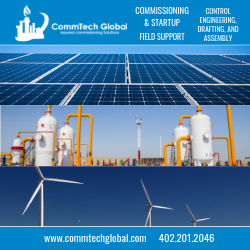 CommTech Global Solutions, LLC, provides professional and reliable commissioning services to customers in all realms of the energy industry. We blend our skills in engineering and technology with innovative business models, offering a complete range of services to assist you for a successful and in compliance operational startup. Consolidation of all our service domains gives our clients a comprehensive set of expertise and far-reaching experience on each project.