The system is forecasted to generate over 730,000 kilowatt-hours of power annually.
SAN MATEO, Calif.--Alta Energy today announced the completion of 504.7kW solar generation system project at Westfield Century City shopping center in Los Angeles, California. Managed by Alta Energy, Inc., this project represents the sixth solar PV system deployed at Westfield Corporation properties, continuing Westfield's goals of reducing energy consumption and sustainability.

The Westfield Century City project is a part of Los Angeles Department of Water & Power's Solar Photovoltaic Incentive Program. The system is forecasted to generate over 730,000 kilowatt-hours of power annually, which represents a significant portion of the mall's energy consumption. The project will remove 568 tons of carbon dioxide, which is equivalent to removing 107 passenger vehicles from the road, and it will save the emissions from 193 tons of waste that are sent to the landfill instead of being recycled.
Westfield's Executive Vice President of Management Tom Tierney said, "The Century City system is the sixth PV solar generation system installed in Westfield's U.S. portfolio and will support our conservation initiatives, produce green energy and improve both environmental and operational results. Alta Energy continues to provide us with solid methodology to help us assess and optimally deploy renewable energy systems at the right location at the right time."
Alta Energy VP of Development Services, Jeff Hintzke, said, "We are pleased to see Westfield's forward-thinking strategies culminate into real, green-power generating assets. The current slate of active projects for Westfield's portfolio will certainly raise Westfield to the top ranks of renewable energy adopters in the commercial shopping center world, setting a high bar for other players to aspire to. The idea that green power generation can benefit both economic and operational goals of a consumer-facing facility is a very powerful concept that should encourage others to follow."
ABOUT ALTA ENERGY
Alta Energy is an independent solar analytics and procurement company that enables commercial property owners to identify and complete cost-effective solar projects with confidence. As an objective third party, Alta Energy helps owners of retail, industrial and office buildings evaluate the business case for solar using a consistent, comprehensive model, and then monitor market conditions for the best solar deployment opportunities. Alta Energy's multiple bid process ensures that property owners select the right solar vendors and the best terms for each project. By identifying economically sound commercial solar projects and matching them with qualified vendors, Alta Energy accelerates the growth of solar power in the United States.
ABOUT WESTFIELD
Westfield Corporation (ASX: WFD) is a global leader in the design, development, and operation of premier retail destinations with interests in 40 shopping centers in the United States and United Kingdom, along with a major development site in Milan, Italy. In the U.S., Westfield's portfolio of 38 shopping centers includes more than 6,700 retail shops across 46 million square feet of space in California, Connecticut, Florida, Illinois, Maryland, New Jersey, New York and Washington.
Featured Product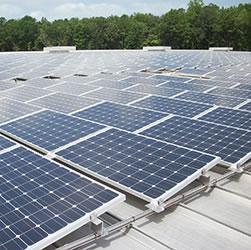 The Power Rail™ Commercial Mounting System is designed with the professional PV solar installer in mind. Both the XD/UD and LD/MD rails feature single tool assembly with the revolutionary patented RAD™ Lock-in-Place bolt for fast and secure module clamping. The high strength marine-grade aluminum rails include an integral wiring channel for securing cables and providing a professional finish.