Air Curtain Burner Coupled to ElectraTherms Power+ Generator
Reno, NV May 28, 2015

ElectraTherm, a leader in distributed, waste heat to power generation, partnered with Air Burners to develop the first whole-log wood waste burner utilizing ElectraTherms Organic Rankine Cycle (ORC) power generating technology. The product, called the PGFireBox, eliminates large amounts of wood waste without any pre-processing, converting the woody biomass to fossil-fuel free electricity while providing a significant improvement in environmental impact by eliminating the production of methane as the wood decomposes in a landfill or forest.
Air Burners, the leading air curtain burning system worldwide, utilizes patented technology to dispose of vegetative waste without costly pre-processing requirements. The self-contained unit generates electricity from vegetative waste and is the fastest, most environmentally-friendly method on the market (6-8 tons per hour/30 cubic yards per hour).
The PGFireBox is portable and can be deployed close to the location where the woody biomass is collected, applicable at sites such as landfills, forest maintenance, fire prevention, and natural disaster clean up. For more information on Air Burners and the PGFireBox, visit http://www.pgfirebox.com.
ElectraTherms Power+ Generator feeds off the heat from the burner to generate up to 110kWe of fossil-fuel free electricity. Through the ORC process, hot water heats a working fluid into pressurized vapor. As the vapor expands, it drives ElectraTherms patented twin screw power block, which spins an electric generator and produces power.
The Power+ Generator utilizes waste heat on various applications beyond biomass, such as internal combustion engines, geothermal/co-produced fluids and solar thermal. ElectraTherms fleet of 50 Power+ Generators has accrued more than 365,000 hours of runtime to date. A list of reference sites is currently available on the website.
Featured Product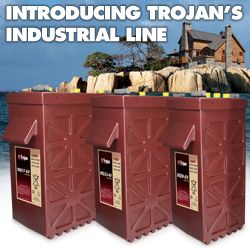 Trojan's deep-cycle batteries provide rugged durability, outstanding performance and long life for use in all types of solar energy installations. With over 90 years of experience, Trojan delivers the world's most reliable and trusted batteries in flooded, AGM, Gel, and Lithium types. These batteries enable solar equipment systems to operate at a peak level of performance in the harshest conditions or the most challenging of locations and are manufactured and tested to IEC standards.