Jabil will help ViZn ramp up production capabilities to fulfill current orders and meet expected delivery commitments over the next 12 months.
AUSTIN, Texas - ViZn Energy Systems Inc. (ViZn), a leading provider of energy storage systems for microgrid and utility applications, announced today that it has entered into a strategic relationship with Jabil Circuit Inc., (NYSE:JBL) a design, manufacturing and supply chain management service provider, to manufacture ViZns redox flow batteries in its state-of-the-art manufacturing facilities.

Jabil will help ViZn ramp up production capabilities of its flow batteries to fulfill current orders, and expand its capacity to meet expected delivery commitments over the next 12 months.
"With the rate of orders accelerating over the past few months, we need a partner who can help us meet the current demand for our energy storage systems," said John Lowell, COO of ViZn. "Working with an industry leader like Jabil further validates our safe and cost effective energy storage solution. Jabil can produce our product in a timely manner and to the strict specifications for quality and performance that we expect of our energy storage systems."
"ViZn has a unique and robust energy storage solution," Bill Mitchell, Jabil senior director of corporate development said. "The market for their product is growing quickly and were proud to be working alongside ViZn as they scale up to meet industry demand."
ViZns Z20 battery storage system is a safe, scalable and sustainable energy storage solution to drive the value of microgrids and utility applications. Its technology utilizes a non-toxic, low cost zinc and iron chemistry that aids steady and safe operation. The Z20 offers one of the fastest charge and discharge responses on the market, can withstand significant temperature fluctuations and can facilitate multiple discharge cycles each day. It is the most cost-effective flow battery system on the market today.
About ViZn Energy Systems, Inc.
ViZn Energy Systems, Inc. is comprised of a visionary team of scientists, engineers and business leaders who are passionate about creating and commercializing a revolutionary energy storage solution for the commercial & industrial, microgrid and utility-scale markets. Founded in 2009 and based on eight previous years of research, ViZn is commercializing highly scalable energy storage systems, ranging from tens of kilowatts to mega-watt storage. The ViZn solution is safe, reliable, cost effective, and scalable to meet the needs of todays ever-changing energy landscape. For more information, visit: www.ViZnEnergy.com.
About Jabil
Jabil is a global product solutions company providing comprehensive services to electronics and technology companies in a broad range of industries. Jabil helps customers turn ideas into products with its wide breadth of design, manufacturing and product management capabilities; allowing customers to think beyond their conventional marketplace and explore new opportunities. Jabil brings customer products to the market faster and more cost effectively by providing intelligent digital supply chain solutions around the world; empowering companies to be the change agents in their industries. Headquartered in St. Petersburg, Florida, Jabil has 90 facilities in 24 countries and 180,000 employees worldwide. The company's common stock is traded on the New York Stock Exchange under the symbol "JBL." Further information is available at www.jabil.com.
###
Featured Product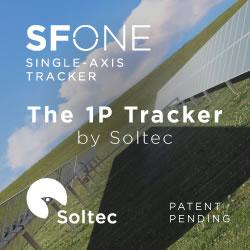 SFOne is the 1P single-axis tracker by Soltec. This tracker combines the mechanical simplicity with the extraordinary expertise of Soltec for more than 18 years. Specially designed for larger 72 an 78 cell modules, this tracker is self-powered thanks to its dedicated module, which results into a lower cost-operational power supply. The SFOne has a 5% less piles than standard competitor, what reduces a 75% the labor time.