All-Important HECO Approval Critical for Supporting Hawaiis Commitment to Renewable Energy
ARLINGTON, Wash.--OutBack Power Technologies, Inc., a designer and manufacturer of advanced power electronics for renewable energy, today announced Hawaiian Electric Companies (HECO) has approved OutBack Powers Radian, FX and FXR multi-mode inverter/chargers for Transient Overvoltage self-certification (TrOV-2). OutBacks products are the first battery-backed inverters to qualify for HECOs stringent "ultra-fast trip" requirements, overcoming the utilitys perception of grid instability and providing customers the opportunity to control their own energy future.

Due to Hawaiis high electricity costs - the highest in the United States - many residents are looking for alternate forms of energy, including solar power. However, HECOs renewable energy restrictions made it impossible to implement grid-tied systems and forced many islanders to go entirely off-grid. OutBacks HECO-approved, battery-backed inverters now allow residents to reduce electricity costs through renewable energy sources, yet remain connected to the grid providing them with grid-stability and more freedom to manage their energy sources and costs.
"OutBack Power shares Hawaiis commitment to renewable energy, but, to achieve that goal, energy storage is a requirement. HECOs certification of our battery-backed inverters validates the market need for energy storage and promotes a new energy future for Hawaii," said Brandon Provalenko, director of North American sales at OutBack Power. "Our technology will meet HECOs requirements today and in the future and gives consumers the opportunity to use, store or sell the energy they produce to maximize their solar investment."
Hawaii recently announced its plans to generate 100 percent of its electricity using renewable energy by 2045. OutBacks drive to secure HECOs approval signals its ability and commitment to providing Hawaiians with the energy storage capabilities required to support this transition. And, as utility rates around the rest of the country continue to increase, the technologies supporting energy storage and grid agility, proven in Hawaii, will be readily implemented in other energy-challenged regions.
"We like to advertise that we really deliver freedom to choose how our clients power their homes and even their vehicles in some cases — in the case of solar electricity, thats freedom from utilities through energy independence," said Scott Sparkman, owner of Honolulu-based Mercury Solar. "OutBack Powers Grid/Hybrid systems help us make good on that promise, by providing our customers with the choice of staying grid-connected or going totally off-grid with one flexible system and with no worries about the utilities rules changing later since their technology can stay ahead of it all."
OutBack Powers advanced technologies and products provide consistent and stable performance for both Hawaiian customers and the HECO grid. In the event of grid failure, the battery-based inverters re-engage to protect the loads in the home. Furthermore, because OutBacks inverters are backed by storage, they can absorb potentially damaging voltage surges that are often a concern for utility companies.
To learn more about OutBack Powers HECO-approved TrOV-2 certified inverter/chargers, visit www.outbackpower.com.
About OutBack Power Technologies
OutBack Power Technologies, a member of The Alpha Group, is the leading designer and manufacturer of advanced power electronics for renewable energy, back-up power and mobile applications. With an emphasis on product performance, OutBack has established itself as the product of choice in harsh environmental conditions and applications where product reliability is paramount. Whether the application is village micro-grids in Africa, rural electrification projects in Latin America, remote off-grid cabins in Alaska, or a suburban home in Southern California, OutBack Power Technologies has set the bar for delivering advanced power conversion electronics. For more information, please visit www.outbackpower.com.
Featured Product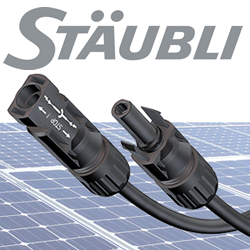 ​Stäubli Electrical Connectors are used on more than 300 GW, over 50% of the PV capacity worldwide. The MC4 family of UL and TUV listed products include connectors, in-line fuses, branch connectors, cable assembly and more.