Socomec launches pioneering digital range - Diris Digiware - that revolutionizes the world of electrical metering, measurement and monitoring.
Rapid installation 4 times quicker than a conventional meter and simple to retrofit

Exceptional accuracy 0.5% accuracy for the whole system from 2% to 120% of the current sensor primary current rating
Self-configuring Plug and Play with automatic configuration and common displays for multi circuit systems
Infinitely Scalable Capable of monitoring thousands of connection points
Self-Financing Potential energy savings and low cost of installation can enable payback within 6 months
Flexible Can be used in both existing and new installations
Armand Adande, Director, Socomec comments; "In 1992, a young engineer tasked with launching electronic development within Socomecs then switchgear division focused his research on electrical multi-measurement. The vision of that young engineer - Michel Krumenacker - opened an entirely new market for Socomec, setting the industry benchmark. Over twenty years after having revolutionized the electrical multi-measurement market with our Diris meter, Socomec has again set the precedent in leading-edge power monitoring systems with the launch of the new Diris Digiware. Socomec has invested many millions of Euros in the development of our new highly disruptive, digital electrical measurement technology. We have drawn on the breadth and depth of expertise within our business - from all around the world - and over forty of our specialist R&D team members have been dedicated to successful delivery of this transformational new technology."
Socomec is committed to finding solutions to the worlds most critical energy issues. Securing long term energy supplies, the identification of drivers for greener buildings, better use of people, energy, space and time - as well as supply, demand, security and storage issues related to energy consumption - are increasingly challenging and important issues for our industry.
Socomecs latest innovation enables customers to optimise energy efficiency and comply with the increasingly demanding legislative and policy demands.
To discuss your requirements please contact
Adande Armand on 617 245 0447 or email info.us@socomec.com
www.socomec.us
The Socomec Group in brief
• An independent, family-owned company founded in 1922.
• A manufacturer providing expert solutions for LV electrical networks: power control and safety, critical power, energy efficiency and solar power.
• 3,200 employees spread over 25 subsidiaries around the world: Socomec has total control of the design, manufacture and marketing of its products.
• Nine production sites (4 in France, 1 in Italy, 1 in Tunisia, 1 in India, 2 in China) integrate the companys core technological know-how and ensure the quality of its products whilst respecting customer requirements in terms of delivery times.
• In 2012, the Socomec Group posted a turnover of 443M€.
Featured Product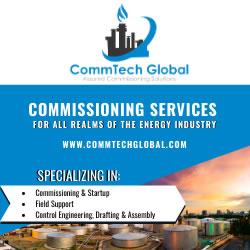 CommTech Global Solutions, LLC, provides professional and reliable commissioning services to customers in all realms of the energy industry. We blend our skills in engineering and technology with innovative business models, offering a complete range of services to assist you for a successful and in compliance operational startup. Consolidation of all our service domains gives our clients a comprehensive set of expertise and far-reaching experience on each project.