Balancing renewable energy sources such as solar or wind power with fluctuating demand is a key challenge for smart grids. Market leader in integrated power systems - Socomec - has developed a solution that converts and stores the energy produced, therefore compensating for the intermittent nature of these energy sources. Socomec Sunsys PCS² power conversion and storage system optimises self-consumption, manages the variance between supply and demand. Through investment in innovation, Socomec has been able to meet the requirements of multiple applications in one single device.
Sunsys PCS² provides grid support by improving stability and operational management connected directly to the grid. The renewable energy produced is converted into AC current and used to supply loads. The system manages the demand-response challenge via voltage and frequency regulation, load shifting, peak shaving as well as via ancillary support services. Any surplus energy is stored in the Sunsys PCS² batteries. Once the batteries are depleted, the system switches over to the grid.
Sunsys PCS² manages the intermittent nature of renewable energy production by limiting production to a predefined value. When production is higher than demand, Sunsys PCS² charges the batteries and maintains the frequency within tolerance. If demand is higher than the energy produced, Sunsys PCS² injects the energy stored in the batteries back into the grid.
When used in conjunction with renewable energy high power installations, Sunsys PCS² ensures the production profile of an otherwise unpredictable renewable energy plant based on the values defined by the power utility. Sunsys PCS² is a modular, hot-swap scalable system with a wide power range from a few kW to several MW.
Manufactured in Europe, UL1741 - CSA C22.2 certified, Socomecs Sunsys PCS² delivers a modular and scalable solution, whereby power and back-up requirements can be easily upgraded. With high output efficiency - up to 98% - the Sunsys PCS² provides an industry leading power conversion and storage solution.
To learn how Socomecs solutions could benefit your organisation
Armand Adande on 617 245 0447 or email info.us@socomec.com www.socomec.us
Featured Product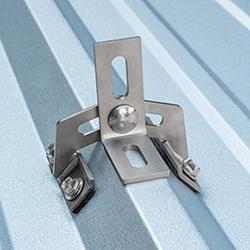 Error-Proof Compression: The QB2 doesn't leave any room for user error when it comes to Microflashing® compression. Once the Dual Drive Shoulder Screw is secured, the Microflashing® is compressed. Only 3 Components: The QB2 is comprised of Microflashing®, an L-foot and a Dual Drive Shoulder Screw. No more Nuts needed to tighten and secure the L-foot! Not only does this simplify the installation process, it also cuts down the installation time.