This program, along with other initiatives nationwide, will help the federal government save more than $18 billion over the next 10 years.
WASHINGTON, D.C. - As part of the federal governments ongoing efforts to improve sustainability and reduce harmful carbon emissions, the U.S. Navy and General Services Administration (GSA) have announced plans to develop more than 10 megawatts (MW) of new solar facilities in the nations capital, building on progress already made through the launch of the Capital Solar Challenge. Today, nine percent of the federal governments electricity comes from renewable energy sources, including solar, putting the White House on pace to reach its goal of 30 percent renewable energy use by 2025.

"We applaud President Obama and his administration for their continued commitment to sustainability and Americas clean energy future," said Rhone Resch, president and CEO of the Solar Energy Industries Association (SEIA). "Simply put, the Capital Solar Challenge is off to a tremendous start. This program, along with other initiatives nationwide, will help the federal government save more than $18 billion over the next 10 years in avoided energy costs, significantly benefitting American taxpayers while growing our economy, improving national security and protecting the environment. By any measurement, these efforts are already paying huge dividends for our nation."
As an example of the success of the federal governments efforts, the Department of Defense (DOD) has added 72 MW of new solar installations to more than 60,000 DOD privatized housing units. Altogether, greenhouse gas (GHG) emissions from all federal facilities have been reduced by more than 17 percent since 2008, according to the White House - the equivalent of taking nearly 2 million cars off the road.
Today, the U.S. solar industry employs 174,000 Americans - more than tech giants Apple, Google, Facebook and Twitter combined - and pumps nearly $18 billion a year into the economy.
Featured Product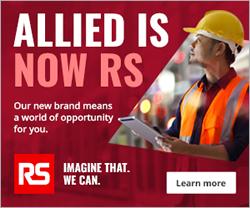 Based off the design pioneered by Anderson in 1953, the two pole SB® connectors set the standard for DC power distribution and battery connections. SB connectors feature a rugged one-piece plastic housing using stainless steel springs to retain the contacts and create the "contact force" that provides extremely low resistance enabling greater electrical efficiency. The SB connectors are also genderless (flip one 180 degrees and they will mate to each other) reducing the customer's bill of materials and providing greater economies of scale when purchasing. The SB series of connectors range in size from SB50 to the SB350. Each family size offers color-coded, mechanically keyed housings designed to prevent both visually and physically cross-mating devices with different voltages. All the connectors are UL rated to 600 volts, so the keys and colors are just identifiers to prevent accidents. Contacts are traditionally Silver plated to minimize electrical resistance while offering supreme durability and reliability.