This year for the eighth time, the award was presented during an official ceremony at the Innovation Exchange at Intersolar Europe.
Munich, June 10, 2015 - Intersolar Europe is the worlds leading exhibition for the solar industry and its partners, providing an platform for the industry to showcase its innovative strength each year. The exhibition kicked off today with the Intersolar AWARD, which was presented for groundbreaking solutions in the categories of Photovoltaics (PV) and Solar Projects in Europe. This year for the eighth time, the award was presented during an official ceremony at the

Innovation Exchange at Intersolar Europe.
Exhibiting companies from all Intersolar exhibitions around the world were invited to impress the panel with their outstanding innovations. Applicants could only put forward products, projects, services and solutions which were undergoing testing or which were already in use (and were making their first appearance at Intersolar) or which showed significant developments to existing technologies at the time of submission. All solar projects had to have been completed within the last two years. The assessment criteria reflected the challenges posed by the market. Experts examined the degree of technological innovation, the benefit for industry, the environment and society, the economic viability of the solution and proof of its innovative quality.
Winners in the Photovoltaics category
Lightweight and robust - an inverter for customized roof-mounted installations The three-phase TrueString 480V Inverter from young Californian manufacturer HiQ Solar was predominantly designed with industrial roof-mounted installations in mind. Two separate 1,000 V DC entry points with independent MPP tracking (maximum power point tracking) allow installations to be configured more flexibly and ensure that these installations are working at maximum capacity. Thanks to ultramodern semiconductor technology based on silicon carbide, the innovation has a CEC efficiency (according to the California Energy Commission) of 98% as well as a high power density, making it more lightweight than conventional systems. At just 11 kg, the inverter is easy to handle and install. Furthermore, the device is robust enough to withstand even extreme conditions, such as in desert or in coastal regions. "HiQ Solars device is a worthy winner of the Intersolar AWARD 2015," said the panel.
Cleverly wired - Cello technology increases module sustainability
LG Electronics Deutschland GmbH has succeeded in increasing the efficiency of module MonoX NeON 2 and reducing material consumption during the production process. The new Cello technology promises to reduce the costs of production and thus the price of modules even more in the future. The new technology uses 12 wires to establish contact with the front of the cells. This provides an intelligent alternative to the printed silver strips and soldered ribbons used up until now, reducing electrical losses. The wires reflect incident light, thus optimizing solar power generation. "With this solution, LG has pioneered a technology that is the subject of much discussion and set to play a more significant role in future," explained the panel.
First halved and then soldered - the next logical step for module technology
With its module TwinPeak, REC Solar EMEA GmbH presented a particularly efficient technology for roof-mounted structures. A low-loss connection is created by first halving cells and then
soldering them back together. In addition to PERC (passivated emitter and rear) cells with multicrystalline silicon, the technology deploys further innovative solutions - electrical contact to the cells is established by four instead of the conventional three busbars, while two separated junction boxes serve one terminal. This connection design enables TwinPeak modules to yield ten watts more than standard modules. "Innovative ideas intelligently combined - this is the next logical step for module technology. The qualities of the REC TwinPeak Series have won us over," explained the Intersolar AWARD 2015 panel.
Winners in the Solar Projects in Europe category
A bold pioneering achievement - decentralized supply combined with renewable energy
The panel praised the project put forward by IBC SOLAR AG as a bold pioneering achievement. EnFa - The Energy Factory is the next step to achieving self-sufficiency for business enterprises. The building, which was constructed in the German town Neuenstadt am Kocher in 2014, generates all of its own energy for heating, cooling, electric mobility and electricity, turning only to biogas to cover demand in low-yielding months. This is made possible by an intelligent energy management system that integrates photovoltaics, an electricity storage system, a combined heat and power plant and heat pumps. EnFa is proof that Germany can have a decentralized energy supply that is based purely on renewable energy, operates without interruption and has a stable local grid - and all this at a low cost. The panel identified the project as a prize-worthy solution with a diverse range of flexible options that should also be used to benefit distribution grids and communities in the future.
Strong partners - syndicate receives Intersolar AWARD for solar collector field with plasma technology for steam generation Ritter Energie- und Umwelttechnik GmbH & Co. KG, Ritter XL Solar GmbH, the Fraunhofer Institute for Environment, Safety, and Energy Technology UMSICHT, GEA Wiegand GmbH and the University of Karlsruhe worked in close cooperation to realize this challenging project. The solar air conditioning project won over the Intersolar AWARD panel with its solar collector field with plasma technology for generating steam due to its effective combination of new developments. A highly efficient vacuum tube collector forms the main component. Its special antireflective coating enables it to achieve impressive efficiency levels even at temperatures between 100°C and 150°C. Furthermore, the project deploys a tailored steam jet cooling device with a cooling capacity of 80 kW. The solution is complemented by a specially developed heat and cold storage system, which keeps operating conditions largely stable. The impressive solar thermal system is proof that solar energy is an effective, economic and environmentally friendly way of providing air conditioning, even under German weather conditions.
All part of the plan - apartment building in Frankfurt creates energy surplus
One of the most innovative multi-story residential buildings in Europe is located in Frankfurts Gutleutviertel. The "Aktiv-Stadthaus" (active house) realized with the help of solarnova Deutschland GmbH generates more energy that the residents of the 75 apartments consume. Passive efficiency achieved by insulation and active electricity generation are optimally combined in this Effizienzhaus Plus (an efficient building pilot project initiated by the German government). What makes this concept revolutionary is the fact that both the users energy requirements and urban integration were taken into account in the planning process. "The Aktiv-Stadthaus is proof that the EU can achieve its 2020 energy efficiency target," said the panel, explaining its reasons for presented the project with the Intersolar AWARD.
Intersolar Europe takes place at Messe München until June 12
Visitors have up until this Friday, June 12 to find out more about the winners and many other exciting solutions at Intersolar Europe, where over 1,000 exhibitors are presenting their products, solutions and services. Approximately 40,000 visitors are expected to make the journey to this years exhibition, which covers 72,000 square meters of exhibition space across eight halls and an outdoor exhibition area. Intersolar Europe is accompanied by ees Europe, the international exhibition for battery and energy storage systems.
Intersolar Europe 2015 takes place from June 10-12 at Messe München. Further information on Intersolar Europe can be found at www.intersolar.de/en
Partners of Intersolar Europe
Intersolar Europe is supported by the leading solar industry associations: the German Solar Association (BSW- Solar) as an exclusive partner, the German Solar Energy Society (DGS), SolarPower Europe (formerly EPIA), the European Solar Thermal Industry Federation (ESTIF), the International Solar Energy Society (ISES), SEMI (Europe), and the platform for photovoltaic production equipment within the German Engineering Association (VDMA-PV).
About Intersolar
With events spanning four continents, Intersolar is the worlds leading exhibition series for the solar industry and its partners. It unites people and companies from around the world with the aim of increasing the share of solar power in our energy supply.
Intersolar Europe is the worlds leading exhibition for the solar industry and its partners. It takes place annually at the Messe München exhibition center in Munich, Germany.
The events exhibition and conference both focus on the areas of photovoltaics, PV production technologies, energy storage systems and renewable heating. Since being founded, Intersolar has become the most important industry platform for manufacturers, suppliers, distributors, service providers and partners in the global solar industry.
In 2014, 1,082 international exhibitors and 42,380 trade visitors attended Intersolar Europe. Around 200 speakers and around 1,100 conference attendees discussed current industry topics and shed light on the background of technological, market and political developments.
With over 20 years of experience, Intersolar has the unique ability to bring together members of the solar industry from across the worlds most influential markets. Intersolar exhibitions and conferences are held in Munich, San Francisco, Mumbai, Beijing and São Paulo. These global events are complemented by the Intersolar Summits, which take place in emerging and growing markets worldwide.
In 2015, ees Europe, the international exhibition for batteries and energy storage systems takes place for the second time in conjunction with Intersolar Europe. ees Europe is covering the entire value chain of innovative battery and energy storage technologies.
For more information on Intersolar Europe, please visit: www.intersolar.de/en
Featured Product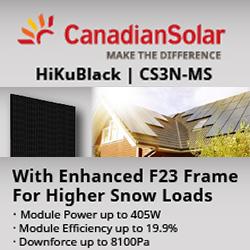 Aesthetic appearance for residential systems: With black backsheet & black frame, Power range 380 ~ 405 W, Low power loss in cell connection. Enhanced reliability: · Low temperature coefficient (Pmax): -0.34 % / °C, LID LeTID less than 2.0%, Lower hot spot temperature, Better shading tolerance.