Suntech's upgraded polycrystalline module will be available globally in July
WUXI, China, June 8, 2015-- Wuxi Suntech announced today the introduction of its new SuperPoly product line. The SuperPoly, an upgraded polycrystalline module, will be exhibited this week for the first time at Intersolar Europe from June 10th to 12th. Available globally this July, Suntech's current manufacturing capacity for the SuperPoly module is 100MW, however Suntech looks to increase this capacity to more than 1GW at the end of this year.

"We're very excited to be introducing the SuperPoly module at Intersolar Europe this week, along with our new products such as the HyPro module, which is our latest high efficiency module that we offer with PERC solar cell technology," said Xiong Haibo, president of Suntech. "Our continual investment in research and development in our PV technology is part of Suntech's vision of a cost efficient and energy efficient future. The SuperPoly is another module in our range of products that has passed the VDE's certification standards. Our customers who are looking to build utility size projects will find that the SuperPoly panel is the perfect fit for their energy needs."
The SuperPoly is a polycrystalline module that integrates an in-depth reflection technology and passivation process, which enables the module to generate at least 2 power classes more (approximately 10W) than the average industry level module, reaching efficiency levels up to 16.7%. Improvements to the color uniformity of the cells allow the SuperPoly 72 cell module to produce an optimal 325W at peak performance, ideal for utility scale size projects. Additionally, this PID-free module sustains higher power output at 200W/m2 compared to the conventional module in weak lighting conditions, catering to markets that require high efficiency and durability under dynamic solar conditions such as the UK, Germany and Thailand. The SuperPoly, like all Suntech's four busbar module designs, has a lower probability of micro-cracks and hotspots, making the modules less susceptible to malfunctions that lead to significant power degradation.
Suntech was recently named on Bloomberg New Energy Finance's (BNEF) May 2015 Global PV Market Outlook list as a tier 1 solar company, based on its bankability.
Suntech will be present at Intersolar Europe 2015 in Munich from June 10-12, 2015, booth number A1.160. Along with the SuperPoly module, the following Suntech products will be featured at the exhibition: the HyPro module with PERC technology, which has an average cell efficiency that can reach up to 20.5%, perfect for residential and rooftop projects; an integrated AC module designed for the residential market, which produces a high energy yield with less installation and maintenance costs; an anti-glaring module designed for airports, railway and highway projects and offers reflectivity reduction of up to 3%; and a standard module, which is suitable for both rooftop and utility projects. The products are all PID-free and provide high performance yields in low light conditions. Suntech's products come with a 10-year product warranty, along with excellent customer service.
About Wuxi Suntech Power Co., Ltd.
Wuxi Suntech Power Co., Ltd., a company incorporated in the PRC in January 2001, produces industry-leading solar products for residential, commercial, industrial, and utility applications. Suntech is a Bloomberg New Energy Finance's tier 1 solar company, based on its bankability and has delivered more than 30 million photovoltaic panels or 9 GWs of installed capacity to more than 1 thousand customers in more than 80 countries. Suntech's pioneering R&D creates customer-centric innovations that are driving solar to grid parity against fossil fuels. Suntech's mission is to provide reliable access to nature's cleanest and most abundant energy source.
Featured Product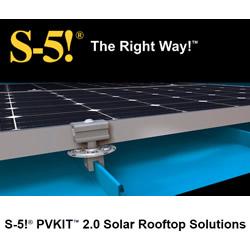 The concept of combining PV arrays with standing seam metal roofing is growing-for good reasons. Metal roofs have a life expectancy of more than 40 years. Shouldn't the mounting system last as long? With S-5! zero-penetration attachment technology and PVKIT 2.0, the solarized metal roof is the most sustainable system available -and without compromising roof warranties! PVKIT 2.0 is the also the best solution for attaching PV modules directly to any exposed fastener metal roof.