This will be the largest solar plant in Texas and one of the largest dual-axis solar projects in the world.
SAN ANTONIO--San Antonio-based OCI Solar Power LLC is announcing the start of construction on the 110-megawatt (MW) Alamo 6 solar plant located in Pecos County, Texas. Once constructed, this will be the largest solar plant in Texas and one of the largest dual-axis solar projects in the world.

The Alamo 6 plant, located on approximately 1,200 acres of private land, is part of a 400MW project OCI Solar Power is constructing for CPS Energy, Greater San Antonios energy company. As part of the agreement with CPS Energy, OCI Solar Power has committed to bring over 800 long-term jobs to the San Antonio area.
"The Alamo 6 project will be built using components that are made exclusively in San Antonio," says SH Yoon, President and CEO of OCI Solar Power. "Our agreement with CPS Energy demonstrates the economic development capacity that we bring to the communities we serve. We are excited to begin construction on what will be the largest solar plant in Texas."
The plant will be developed, owned and operated by OCI Solar Power and will feature San Antonio-made products from the companys affiliates, including a dual-axis tracker system from Sun Action Trackers and solar modules from Mission Solar Energy. Inverters will be supplied by KACO new energy, also located in San Antonio. OCI Solar Power has contracted with Mortenson Construction to construct the project.
"The size of these farms symbolize our commitment to solar power and renewable energy development," says Cris Eugster, Group Executive Vice President and Chief Generation & Strategy Officer of CPS Energy. "More importantly, they highlight the innovation and technology of our New Energy Economy partners and how we work together to bring jobs and economic development to a community."
OCI Solar Power LLC
OCI Solar Power is a leader in the solar power industry, providing innovation and development for solar power plants in communities in the United States and globally. OCI Solar Power works with local officials, community organizations and local partners to engineer, develop, construct and operate solar projects. We have 400 MW of solar photovoltaic projects currently in operation and under development. San Antonio, Texas-based OCI Solar Power is owned by Atlanta-based OCI Enterprises. For more information, visit www.ocisolarpower.com.
Featured Product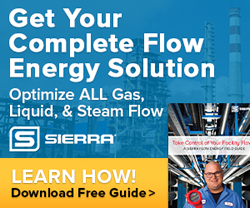 Download Flow Energy Guide - Written by Engineers For Engineers. Learn how to save on energy costs by optimizing your facility flows that impact costs like compressed air, natural gas, steam, and hot or chilled water.