SEIA has gone from 7,000 Facebook followers to nearly 700,000 – with its daily posts reaching more than 10 million people a year.
WASHINGTON, D.C. - As part of its annual awards ceremony in Miami Beach, marketing and communications industry leader PR News announced the winners and honorable mentions for its prestigious 2015 Social Media Icon Awards for companies, agencies and organizations which "broke the mold in social media communications."

In the category of Community Engagement on Facebook, SEIA's popular "A Million Voices for Solar" campaign was named honorable mention to the co-winning Facebook efforts of Aflac Insurance and singer, songwriter and actress Demi Lovato. During the course of its online campaign, SEIA has gone from 7,000 Facebook followers to nearly 700,000 - with its daily posts reaching more than 10 million people a year.
In announcing its winners, PR News said: "These are the people who took chances, went against the grain and made great strides through their understanding of the power of social media in public relations."
"This is a tremendous honor and reflects the hard work of SEIA's communications team, which also was recognized recently with a 2015 Gold Communicator Award from the Academy of Interactive and Visual Arts (AIVA) for website activism," said Rhone Resch, president and CEO of the Solar Energy Industries Association (SEIA). "We are especially proud that all of our social media efforts are done 'in-house' - without the assistance of an outside agency. But most importantly, this recognition by PR News is yet another reflection of the tremendous popularity of solar energy. In fact, in a recent Gallup poll, 9 out of 10 Americans voiced their strong support for solar, which is the fastest-growing source of renewable energy in America."
Today, the U.S. solar industry employs 174,000 Americans - more than tech giants Apple, Google, Facebook and Twitter combined - and pumps nearly $18 billion a year into the economy. What's more, by the end of 2016, there is expected to be enough installed solar capacity nationwide to power more 8 million homes.
Featured Product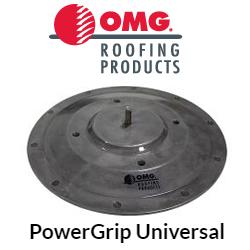 PowerGrip Plus Roof Mount System, a watertight structural attachment system used to secure ballasted solar racks and other equipment to roofs covered with thermoplastic (TPO and PVC) membranes. PowerGrip Plus is designed with wind performance in mind and offers ultimate tensile strength of 2,000 lbf. and ultimate shear strength of 1,075 lbf. Properly installed PowerGrip Plus units reduce rack movement and remaining watertight. PowerGrip Plus units are easy to install, saving both time and labor when compared to alternative options. A wide membrane skirt promotes easy welding in place, and the 15/8 diameter and 1/2 inch tall mount provides an optimal perch for securing brackets or struts. The exposed 1 inch tall and 3/8 inch diameter bolt and mounting stand are made from corrosion-resistant stainless steel and aluminum alloy for superior long-term performance.