ABB hosts Business NC Energy Round Table with statewide energy stakeholders to discuss the bright future of power in North Carolina
Cary, N.C. (June 17, 2015) - North Carolinas energy economy, one of the largest and most diverse nationwide, is evolving to meet growing demand for sustainable electricity. ABB, the global leader in power and automation, expects renewable energy to play a larger role in North Carolinas energy economy as the search for more reliable, cost-efficient and environmentally friendly power continues. Industry leaders discussed this and other related topics during this weeks Business North Carolina Energy Round Table.

The round table, sponsored by ABB and hosted at the ABB Smart Grid Center of Excellence, located on the Centennial Campus of North Carolina State University, brought together energy stakeholders from across the state. Experts from Duke Energy, Duke University, Dominion Energy, E4 Carolinas, the North Carolina Mining and Energy Commission, NC State, the University of North Carolina at Charlotte, and the Research Triangle Cleantech Cluster joined @ for a conversation about the future of energy in North Carolina.
North Carolina is one of Americas most active energy states, and its energy economy continues to grow. The state is recognized as the fourth largest in the country for solar energy, based on percentage of electricity produced. North Carolina currently has a Renewable Energy Portfolio Standard (REPS) - the only southeast US state with any renewables standard.
Charlotte is ranked nationally as one of the top energy hubs for power generation, and the Triangle region has been rated by a Duke University study as the number-two rated metropolitan hub for Smart Grid technologies in the country. More than 100 Triangle-area companies are active in some aspect of smart grid technologies. Many of those companies have headquarters or major operations in the Triangle.
Additionally, North Carolina is already home to more than 32 companies and nearly 50 facilities that are involved in the full value chain of the wind energy industry, including ABB.
"Stricter regulations, including the prospect of the EPAs Clean Power Plan, and aging facilities are making fossil and nuclear generation more complex. As utilities address the demand for electricity, the power industry in North Carolina is embracing renewable energy investments from solar and wind," said Gary Rackliffe, ABB vice president, Smart Grids. "ABB strongly supports these renewable energy initiatives in North Carolina, and we continue to partner, invest in, and support cutting edge 'smart grid technologies, a strong workforce, and state policies that encourage development and jobs."
"Consumers, workers and businesses statewide are benefitting from a robust and innovative energy sector," said Rackliffe. "With the right policies and technologies in place, North Carolinas energy economy will only continue to experience impressive growth."
About ABB
ABB (www.abb.com) is a leader in power and automation technologies that enable utility, industry, and transport and infrastructure customers to improve their performance while lowering environmental impact. The ABB Group of companies operates in roughly 100 countries and employs about 140,000 people. North America is the largest market for ABB products and services, with headquarters in Cary, North Carolina.
Featured Product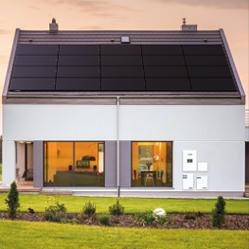 The Q.Home+ ESS HYB-G1 energy storage solution offers scalable storage capacity from 4.5 kWh up to 18.9 kWh and comes in a modular design for easy and fast installation. The system is offered in both DC-coupled and AC-coupled configurations and can connect up to 3 batteries in series using only one inverter and battery management system (BMS). The system includes an integrated backup power function for 100% of the rated inverter output to support critical loads in the event of power failure and offers remote monitoring using the QHOME+ web portal or QHOME+ ESS mobile app.