Solar silicon producer continues momentum toward first commercial-scale facility in Iceland.
SAN JOSE, Calif. — June 19, 2015 — Silicor Materials, a producer of high-quality solar silicon, today announced the signing of a contract with MT Højgaard, a global player in the construction and civil engineering industry, for the design and construction of Silicors commercial-scale plant in Grundartangi, Iceland.

The companies have worked together for more than a year to optimize the design of the 121,000 square-meter production facility, which will supply photovoltaic (PV) cell and module manufacturers around the world with at least 16,000 metric tons of solar silicon each year.
Under the terms of the agreement, worth more than $226.5M USD, MT Højgaard is responsible for various aspects of plant construction, as well as any design, planning and consulting support required throughout the process.
"This collaboration is a prime example of our ability to add value to projects from the initial stage, ensuring that customers like Silicor achieve the greatest possible economic benefit in terms of both planned production and future flexibility," said Jóannes Niclassen, Vice President of MT Højgaard.
Silicors solar silicon is a lower-cost, environmentally friendly alternative to traditional polysilicon, allowing manufacturers to reduce production costs with no impact to product performance or quality. The material, which currently powers more than 20 million PV cells around the world, is produced through a proprietary metals-based process that consumes significantly less energy than traditional methods.
This news comes on the heels of Silicors multi-million dollar equipment contract with SMS Siemag, as well as the finalization of the land lease and port agreements with local Icelandic authorities.
"One by one, we continue to check off the boxes required to get our commercial-scale plant in the ground—on time, on budget, and with some of the biggest names in the business," said Terry Jester, CEO of Silicor Materials. "MT Højgaards unparalleled experience across the North Atlantic region has proven to be a major asset to our team throughout this process, and we look forward to planting the first shovel in the ground on this world-class facility."
Construction on Silicors Iceland facility is scheduled to begin in early 2016.
About Silicor Materials
Silicor Materials produces solar silicon to meet the unique cost and performance needs of PV manufacturers. The companys proprietary manufacturing process unlocks significant cost reduction without sacrificing quality, and its products achieve performance on par with global industry standards. Silicor is based in San Jose, California, with additional locations in Ontario, Canada and Berlin, Germany. Investors include Hudson Clean Energy Partners, Advanced Technology Ventures, Globespan Capital Partners, Good Energies and Ventures West. For more information, please visit www.silicormaterials.com.
About MT Højgaard Group
The MT Højgaard Group is one of the leading players in the construction and civil engineering industry in the Nordic countries. The Group undertakes projects in Denmark and specific activities in selected countries. The Group consists of the company MT Højgaard and a group of specialised wholly or partly owned subsidiaries. Our services extend to all types of projects in the construction and civil engineering industry. Productivity, sustainability and quality are focus areas for the MT Højgaard Group's 4000 employees. The Group generates revenue of DKK 7 billion. mth.dk
Media Contact
Kaitlyn Finegan
Antenna Group for Silicor Materials
Tel. +1 415 977 1914
silicor@antennagroup.com
Sofie Karen Lindberg
Director, Corporate Marketing & Communication
Tel. +45 2270 9214
skl@mth.dk
Featured Product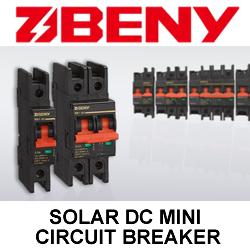 The BB1-63 modular miniature circuit-breakers can be used in solar DC circuits up to 1200 VDC (4-poles execution). Application in solar DC circuits, battery energy storage systems and UPS. Arc flash barrier design keeps solar equipment more safe and reliable. For DC circuit over-current protection.