Company Emerges from Stealth with $50M in Private Capital and a Revolutionary New Technology That Will Slash Todays Lithium-Ion Battery Costs by 50%
CAMBRIDGE, Mass.--Today, 24M emerged from stealth mode to introduce the semisolid lithium-ion cell, a revolutionary technology that solves the grand challenge of energy storage by enabling a new, cost-effective class of the lithium-ion battery. 24Ms semisolid lithium-ion is the most significant advancement in lithium-ion technology in more than two decades and combines an overhaul in battery cell design with a series of manufacturing innovations that, when fully implemented, will slash todays lithium-ion costs by 50% and improve the performance of lithium-ion batteries. The technology will accelerate the global adoption of affordable energy storage.

Until now, the energy storage field has had two options to try to drive down costs - build massive and complex factories to produce lithium-ion batteries in high volumes or pursue entirely new chemistries that may never move from the lab to the commercial floor. With the invention of the semisolid lithium-ion battery, 24M presents a third option - work with the worlds preferred energy storage chemistry and unlock new opportunities for cost reductions through new cell design and manufacturing innovations. 24Ms platform is the most significant advancement in lithium-ion technology since its debut more than 20 years ago.
"The lithium-ion battery is a brilliant, enabling technology, but its economics are flawed. Its prohibitively expensive; its cumbersome and inefficient to make; and todays version is approaching the limits of its cost reductions," said Dr. Yet-Ming Chiang, 24Ms Chief Scientist. "24M has fixed the flaws. Weve made the worlds favorite battery better, fundamentally changing its cost curve by designing a more elegant and simpler cell and then making the batteries the right way - the way they should have been made from day one."
Reinvented Cell Design: Enabled by the Semisolid Thick Electrode
24Ms simple but breakthrough cell design is made possible by the semisolid thick electrode - a material science innovation originating in Dr. Chiangs lab at MIT. Conventional lithium-ion battery cells have a large fraction of inactive, non-charge carrying materials - supporting metals and plastics - that are layered, one-on-top of the other, within a cells casing. Those inactive materials are expensive and wasteful. With the invention of the semisolid thick electrode, 24M eliminates more than 80% of these inactive materials and increases the active layer thickness over traditional lithium-ion by up to 5x. Using thick electrodes, the cell also stores more energy, bettering the performance of the battery as well as its cost.
Advanced Manufacturing Platform
The simplicity of 24Ms new cell design likewise begets a radically simplified advanced manufacturing process. The traditional method for making lithium-ion batteries takes days, is extremely capital-intensive and must run at high-volume to achieve economies of scale. 24Ms novel approach to manufacturing yields dramatic improvements:
* From Days to Hours: Start to finish, 24Ms cell creation takes one-fifth of the time of a conventional battery. Because semisolid lithium-ion doesnt require binding, drying, solvent recovery or calendaring, it removes entire steps in the manufacturing process.
* Ultra-low Cost: While the removal of manufacturing steps certainly contributes to lower capex, eliminating the need for entire plants makes semisolid lithium-ion ultra-low cost. A 24M factory requires about one-tenth the investment of a conventional plant.
* Flexible and Modular: Manufacturers can scale in small steps to match supply to demand, making lithium-ion cost effective even at low-volume production.
* Environmentally Friendly: 24Ms solvent-free manufacturing platform creates the most easily recycled lithium-ion cell ever made.
"We give the architects of our energy future everything they love about lithium-ion at a cost they love too," said Throop Wilder, 24Ms CEO. "Together, our inventions achieve what lithium-ion has yet to do - meet the ultra-low cost targets of the grid and transportation industries. By 2020 our battery costs will be less than $100 a kilowatt-hour (kWh). Were emerging at the right time with the right technology."
Since its founding in 2010, 24M has raised $50 million in private capital, closing Series A and B rounds, from Charles River Ventures, North Bridge Venture Partners and industrial partners. The company is also the recipient of a $4.5 million grant from the U.S. Department of Energy. 24Ms cells are currently undergoing customer trials with large, global integrators of power systems for the grid. The company now employs more than 50 people and runs a fully automated manufacturing line from its 32,000 square foot facility in Cambridge, Massachusetts.
ABOUT 24M
24M answers the worlds need for affordable energy storage by enabling a new, cost-effective class of the lithium-ion battery - powered by semisolid lithium-ion technology. By upending the design of the battery cell, as well as how the batteries are made, the company solves the critical, decades-old challenge associated with the worlds preferred energy storage chemistry: reducing its high cost while bettering its performance. Founded and led by some of the battery industrys foremost inventors, scientists and entrepreneurs, 24M is headquartered in Cambridge, Ma. For more information, please visit www.24-m.com.
Featured Product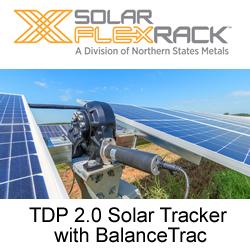 Solar FlexRack's latest solar tracker technology bundles an advanced tracker design with a full team of seasoned engineering and installation experts at your service. The next-generation solar tracker delivers a package of features that both enable increased energy yields for commercial and utility-scale solar installations, and significantly reduce project risks. That translates to smart installation cost-savings across your project budget.