SBG Cleantech will invest in solar and wind energy projects to promote clean and safe energy
NEW DELHI--Japan headquartered telecommunications and Internet major SoftBank Corp. ("SoftBank"), leading Indian business conglomerate Bharti Enterprises Limited ("Bharti") and Taiwan-based top design and manufacturing services provider Foxconn Technology Group ("Foxconn"), came together with plans to form a joint venture, SBG Cleantech Limited ("SBG Cleantech") to promote the adoption of clean and safe energy in India. Subject to certain conditions, all three companies will jointly invest in the venture.

SBG Cleantech will be a harbinger of solar and wind energy. Following the Indian Prime Ministers 100GW solar and 60GW wind target by 2022, the venture will invest in and develop renewable energy plants across India. SBG Cleantech is committed to contributing to the Government of Indias mission of 24x7 power for all and the renewable energy target by 2022. The company intends to participate in the 2015-16 round of solar power plant tenders under the National Solar Mission (NSM) program and state-specific solar programs.
Given its vast population, high irradiation, growing energy demand and power deficit, limited access to fossil fuels and a large number of unlit villages, India has great potential to be a major solar market.
India has achieved a base of 3.7 GW of solar power, evolved its policies and created a solar ecosystem of installers, manufacturers, developers, financiers and researchers. For a country of Indias size and promise, this can only be a first step.
Masayoshi Son, Chairman & CEO of SoftBank, said, "Our eyes are trained on India, given the vast potential that the country offers. We have already made considerable investments in the technology sector here. With this partnership, our goal is to create a market-leading clean energy company, to fuel India's growth with clean and renewable sources of energy. We have joined hands with Bharti Enterprises and Foxconn, two leaders in their respective markets for this venture that will propel India into the future."
Added Sunil Bharti Mittal, Chairman, Bharti Enterprises, "At Bharti, we believe in projects that have a transformational impact on society. In line with this vision, we are participating in a renewable energy venture with SoftBank and Foxconn which has the potential to transform the Indian economy. This project will immensely contribute to the Honble Prime Ministers vision of meeting the countrys energy demands through clean sources. Just as mobile phones have connected every Indian, renewable power has the potential to provide every Indian with access to electricity, SBG Cleantech underlines our commitment to Indias growth plans not only by eliminating energy deficit but also providing clean environment to the future generations of India."
Terry Gou, Founder and CEO, Foxconn Technology Group, said, "As a leading global technology company, Foxconn is committed to fulfilling our social and environmental responsibilities (SER) and investing in areas that link technology with sustainable growth in a way that also protects the environment. Harnessing renewable energy is a key pillar in our SER strategy and we are excited to join our industry partners, SoftBank and Bharti, in championing clean energy solutions in India through SBG Cleantech, and supporting the countrys efforts to grow its renewable energy industry."
SBG Cleantech will have Manoj Kohli, a Bharti veteran, who until recently led Bhartis emerging businesses, as executive chairman and Raman Nanda, as the CEO. The company will be headquartered in Delhi.
Solar in India is likely to grow by 250% in 2015. Globally, renewable energy outpaced the growth of fossil fuels in 2015 and a record 107 GW was added through wind, solar, geothermal and other natural sources.
(Data source: India Solar Handbook, 2015)
SoftBank Corp. through its subsidiaries and associates, offers a comprehensive range of advanced mobile communications, fixed-line communications and Internet services around the world. With Sprint joining in July 2013, the SoftBank Group became a leading global carrier that now has over 100 million subscribers. Maximizing synergies across its Group companies worldwide, SoftBank aspires to realize lifestyle innovation through IT. SoftBank is also encouraging the adoption of clean and safe energy through its business activities. To learn more, please visit http://www.softbank.jp/en/corp/
Featured Product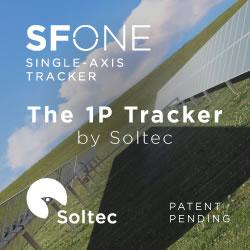 Soltec manufactures and supplies solar trackers designed and proven for extreme climate conditions, which is an ideal solution for any region's environment. Soltec's trackers are self-powered, requiring no additional PV module or grid-powered connection. Bifacial modules collect energy on both the front and rear sides, capturing reflected irradiance from the ground surface under and around the tracker and from other modules. Depending on site conditions, bifacial yield-gain can reach +30 percent.