Iowa Biodiesel Board asks for higher volumes in '16 and '17 under Renewable Fuel Standard
ANKENY, Iowa - A biodiesel-powered convoy travels from Iowa to Kansas City today, where members of the Iowa Biodiesel Board will stand up for the fuels future in the Renewable Fuel Standard.

The Environmental Protection Agency is holding a hearing in Kansas City June 25 on its long-awaited proposed renewable fuel volumes under the federal RFS program. In biodiesels primary RFS category, "biomass-based diesel," EPA has proposed 1.63 billion gallons in 2014, with gradual growth of about 100 million gallons per year to a standard of 1.9 billion gallons in 2017. Growth is also planned for the Advanced Biofuel category, which biodiesel can meet.
Grant Kimberley, executive director of the Iowa Biodiesel Board and director of market development for the Iowa Soybean Association, will testify.
"I represent the entire Iowa biodiesel value chain — from the farmers who grow soybeans, to biodiesel manufactures, petroleum marketers and other industry stakeholders," Kimberleys testimony says. "But I am also an Iowa farmer who believes in the power of biodiesel to have a positive impact on my local, state and national economy."
EPA Administrator Gina McCarthy visited his family farm in 2009, where he had the opportunity to show her just how intertwined agriculture and energy are.
"When we diversify farm income by allowing farmers to play a role in energy, it has a great benefit of enhancing food security," Kimberley will tell EPA officials. "The rise of biofuels has no doubt saved family farms, which means more food security. Farmers are innovative and will always rise to meet market demands."
Iowa is the top biodiesel-producing state.
While most industry leaders do not take issue with the proposed 2014 and 2015 biodiesel volumes, consensus is that 2016 and 2017 have been set too low.
"I ask that you set a final rule that is closer to the industrys initial request of 2.4 billion gallons for 2016, and 2.7 billion gallons for 2017," Kimberley will say. "We are more than capable."
Producer members testifying include AGP based in Sergeant Bluff, REG based in Ames, and Western Dubuque Biodiesel, a 30 million gallon per year facility located in Farley.
"I am a U.S. Air Force veteran who served in the Gulf, and I am concerned about improving U.S. energy security," Tom Brooks, general manager of Western Dubuque Biodiesel, will testify. "Our company…provided the first new hiring opportunity in our town of 900 in the past 15 years. These are well above average pay jobs."
Iowa Governor Terry Branstad, an ardent biofuels supporter, also plans on testifying at the hearing.
The Iowa Biodiesel Board is a nonpartisan state trade association representing the biodiesel industry. The full testimony will be posted on IBBs website.
Featured Product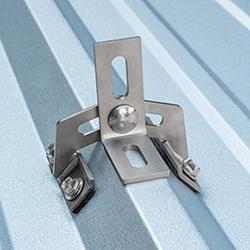 Error-Proof Compression: The QB2 doesn't leave any room for user error when it comes to Microflashing® compression. Once the Dual Drive Shoulder Screw is secured, the Microflashing® is compressed. Only 3 Components: The QB2 is comprised of Microflashing®, an L-foot and a Dual Drive Shoulder Screw. No more Nuts needed to tighten and secure the L-foot! Not only does this simplify the installation process, it also cuts down the installation time.