At Construction Midpoint, Lockheed Martins Massive New Solar Carport Taking Shape as Floridas Largest Privately Held Solar Array
OLDSMAR, Fla., June 25, 2015 - With the first phase of the innovative solar carport at Lockheed Martins Mission Systems and Training facility in Oldsmar, Florida completed and phase two construction now underway, Floridas largest private, non-utility-owned solar array is quickly becoming a landmark. The team is preparing for an official ribbon cutting and launch of the project October 2015.

Advanced Roofing is also resurfacing the facilitys entire 6.65-acre parking lot while Lockheed Martin operations remain in full swing. More than 250 Lockheed Martin employees vehicles are being shaded under the two completed, 400-foot-long carport sections. According to Clint Sockman, vice president of Advanced Roofing and AGT, phase ones 3,880 Hanwha SolarOne S-series modules will begin converting sunlight to energy once transformers are installed later this summer.
"The carports scope and capacity make it a great demonstration of solar energys potential to improve sustainability for Floridas private sector," Sockman said. "Its an exciting, fast-track project that draws on our decades of experience handling complex projects in operational businesses, governmental and healthcare environments."
General contractor Advanced Roofing and sister company Advanced Green Technologies (AGT) marked the midway construction milestone of the 2.26 megawatt solar carport in Oldsmar earlier this month, with the entire project on track for completion in October 2015. AGT is constructing and installing Lockheed Martins 151,400-square-foot solar carport, which is expected to produce an estimated 3.3 million kilowatt hours of electricity per year when completed, cutting energy purchases for the facility by up to 60 percent.
Bringing an added "green" dimension to the environmentally friendly construction project, Lockheed Martin is recycling the inch-deep soil being removed from the entire parking lot, by donating it for use at the City of Oldsmars new BMX Supercross facility being built nearby. "This is another example of the partnership between the City of Oldsmar and Lockheed Martin and the shared value of environmental stewardship," stated Oldsmar Mayor Doug Bevis.
"At Lockheed Martin, we look for sustainable solutions with multiple benefits, and the solar carport will deliver long-term, on several fronts," said Curt Engel, Lockheed Martin Oldsmar Facility General Manager. "Drawing on renewable power will reduce our carbon footprint while cutting energy costs significantly. Were delighted our employees will benefit from shaded parking - and pleased that the city will re-use material from our site in creating a unique recreational asset for the community."
About Advanced Roofing and Advanced Green Technologies
Fort Lauderdale-based Advanced Roofing provides design, procurement and construction of commercial rooftop and utility ground mount solar photovoltaic systems for clients throughout North America and the Caribbean. Advanced Roofing is consistently ranked as Floridas top commercial re-roofing contractor by national Roofing Contractor magazine.
Advanced Green Technologies (AGT Solar) is an award-winning solar energy contractor and sister company to Advanced Roofing Inc., one of the nations largest commercial re-roofing companies. Founded in 2007, AGT specializes in the design, procurement, and construction of rooftop, carport, and ground-mounted solar energy systems. AGT is among the most experienced commercial solar contractors in North America, having installed more than 200+ megawatts (MW) of carport, ground mount, and rooftop solar. AGT holds NABCEP, RISE, and LEED accreditation and is recognized by Solar Power World Magazine as a top Commercial Solar Contractor in North America 2012-15. To learn more about AGT call 888-735-2641 or visit www.agt.com.
For additional information about Lockheed Martins sustainability efforts, visit our website: http://www.lockheedmartin.com. For more about Lockheed Martins solar carport in Oldsmar, see http://lmt.co/1GAg1yB.
About Lockheed Martin
Headquartered in Bethesda, Maryland, Lockheed Martin is a global security and aerospace company that employs approximately 112,000 people worldwide and is principally engaged in the research, design, development, manufacture, integration and sustainment of advanced technology systems, products and services. The Corporations net sales for 2014 were $45.6 billion.
Featured Product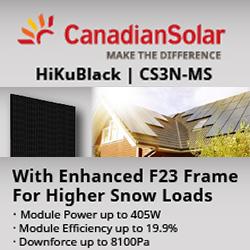 Aesthetic appearance for residential systems: With black backsheet & black frame, Power range 380 ~ 405 W, Low power loss in cell connection. Enhanced reliability: · Low temperature coefficient (Pmax): -0.34 % / °C, LID LeTID less than 2.0%, Lower hot spot temperature, Better shading tolerance.