The rooftop PV plant, located in Evere, Belgium, has a capacity of 738.45 kWp ----With this new plant, Martifer Solar now has connected successfully approximately 35 MW in Belgium
Martifer Solar, a subsidiary of Martifer SGPS, has completed the construction and connection of a 738.45 kWp PV system on the rooftop of the Decathlon building in Evere, Belgium for the company Orka NV.

Martifer Solar was responsible for the engineering, procurement and construction (EPC) services for the rooftop PV plant, integrated into the new facilities of Decathlon in the Brussels region. The building itself was developed and built by CBRE Global Investors, and leased to Decathlon on a long-term basis.
The building hosts the largest Decathlon store in Europe and currently stands as one of their largest stores in the world. With an area of 10,600 m2, the 738.45kWp PV plant installed on the buildings rooftop, was built using 2,735 monocrystalline solar panels installed on fixed structures. The rooftop PV plant will produce an estimated 632.3 MWh/year, which will offset the emission of more than 140 tons of carbon dioxide annually and will provide sufficient energy to power the average consumption of 210 households.
This new PV plant represents a continued cooperation between Martifer Solar and Orka and demonstrates their reliable and strong partnership since 2011.
"This PV plant installed by Martifer Solar in the Benelux region represents the reliability, safety and bankability of the projects and work that we have been doing in this region. The achievement of more than 150 projects built on over 300 rooftops in Belgium, together with our global expertise allows us to consolidate and expand our strategy for the EPC and O&M business in the Benelux region," says Luis Pinho, Operations Manager in Belgium for Martifer Solar.
"This project was more complex and had a longer development lead time due to the close integration with the construction of the building itself. We have enjoyed working with Martifer Solar to realize this project to the satisfaction of all stakeholders. With this realization Orkas capacity in rooftop PV in the Brussels region totals 7Mwp, divided over 6 rooftops," says Jan Heyse, Managing Director of Orka, investor and asset manager for the project.
With this realization, Martifer Solar has achieved a track record of approximately 35 MW of total PV capacity installed in Belgium.
Henrique Rodrigues, CEO of Martifer Solar, said, "We are proud to demonstrate yet another success as a result of our hard work in Belgium. With these achievements, Martifer Solar continues to show its commitment to the development and implementation of solar PV on a global level. The experience we have gained through our track record in Belgium with rooftop installations will be vital for our upcoming projects to be completed throughout emerging markets and other parts of Europe in the next few years." 

ABOUT MARTIFER SOLAR
Martifer Solar is a fully integrated player in the global PV market, focused on the development of photovoltaic projects, EPC and O&M services.
The company is based in Portugal and has presence in Europe (Spain, Italy, Greece, Belgium, France, Czech Republic, Slovakia, UK, Germany, Romania and Ukraine), North America and Latin America (US, Canada, Mexico, El Salvador, Chile, Brazil and Ecuador), Africa (Cape Verde, Mozambique and South Africa) and Asia (India, UAE, Singapore and Japan).
The company has implemented more than 670 MW of photovoltaic energy worldwide.
Martifer Solar is part of the Martifer Group, a multinational industrial group with about 3,000 employees focused on metallic constructions and solar energy. Martifer SGPS, SA is the parent company of the Group and is listed on Euronext Lisbon since June 2007.
LEARN MORE AT WWW.MARTIFERSOLAR.COM
ABOUT ORKA NV
Orka is an independent Belgian local project developer in PV and energy efficiency projects. ORKA owns and operates 32MW plants divided over 38 rooftops in Belgium.
LEARN MORE AT WWW.ORKA-POWER.COM
Featured Product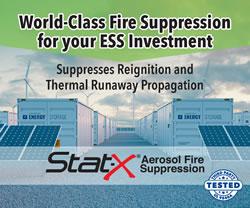 Stat-X® condensed aerosol fire suppression is a solution for energy storage systems (ESS) and battery energy storage systems (BESS) applications. Our Stat-X condensed aerosol fire extinguishing product was tested for efficacy in suppressing li-ion battery fires. It was found that the product successfully extinguished single and double cell battery fires. This testing was conducted in parallel with a large battery fire testing program on behalf of a large energy storage company.