DuPont believes the proposed 2014 to 2016 Renewable Fuel Standards (RFS) rule is misguided and is a major step backward
KANSAS CITY, Kan. June 25, 2015

Brenda Heffelfinger, business manager, Grain Processing, DuPont Industrial Biosciences, testified today at the U.S. Environmental Protection Agency (EPA) hearing on the Proposed 2014 to 2016 Renewable Fuel Standards Rulemaking in Kansas City, Kan. Upon testifying, DuPont issued the following statement:
"DuPont believes the proposed 2014 to 2016 Renewable Fuel Standards (RFS) rule is misguided and is a major step backward. Since the RFS was first enacted, the United States has quickly risen to lead the world in biofuels technology and execution. But that leadership is now hanging in the balance, dependent upon the actions of the EPA to correctly administer this policy.
"Make no mistake, investments in additional cellulosic ethanol capacity and plants in the United States are absolutely dependent on the EPA fulfilling its obligations to the existing biofuels industry. RFS policy certainty is a prerequisite for the existing industry to expand and invest in cellulosic ethanol capacity and new plants.
"DuPont plans to license the next wave of biofuels technology, cellulosic, here in the United States and around the world. However, the most promising announcements, negotiations and conversations are all happening outside the United States. As long as the EPA continues to undermine existing domestic biofuels capacity, this will continue, creating a scenario where the benefits of U.S. innovation and technological advances are realized overseas.
"The proposed RFS rule fails to meet the RFS objectives to improve energy security, reduce greenhouse gas emissions and promote domestic economies. The best course of action is for the EPA to abandon this proposed rule, go back to the drawing board and issue a new proposal based on the directive that Congress provided when the RFS was passed - a directive that supported American ingenuity, production and leadership in an innovative industry."
DuPont (NYSE: DD) has been bringing world-class science and engineering to the global marketplace in the form of innovative products, materials, and services since 1802. The company believes that by collaborating with customers, governments, NGOs, and thought leaders we can help find solutions to such global challenges as providing enough healthy food for people everywhere, decreasing dependence on fossil fuels, and protecting life and the environment. For additional information about DuPont and its commitment to inclusive innovation, please visit http://www.dupont.com.
Featured Product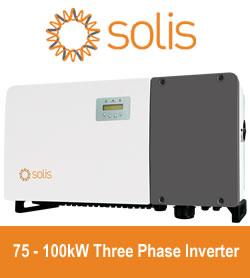 Solis75kW - 100kW series high-power string inverters are widely used in industrial and commercial rooftops. Solis's new three-phase string inverter is the first choice for industrial and commercial photovoltaics. 75-100kW three phase series string inverter have Maximum 28 strings input, support "Y" type connection in DC side. Maximum string input current 13A, support bifacial modules access.Supports anti-PID function to improve system efficiency.