The building, boasting of its unique blue façade – thanks to the Emirates Insolaire glass panels.
DUBAI, United Arab Emirates--Emirates Insolaire LLC, a pioneer in the development and application of unique solar technologies and a joint venture of Dubai Investments PJSC [DI] and SwissINSO Holding Inc., has created history with the successful installation of the worlds first Kromatix coloured solar panels on a building façade in Lausanne, Switzerland.

The entire installation, worth AED 850,000, is capable of generating sufficient electric power annually for two families of four people each. The building, boasting of its unique blue façade - thanks to the Emirates Insolaire glass panels, thus has the unique recognition of having the first coloured, photovoltaic solar panel façade in the world.
Two other projects in Basel, Switzerland, and Austria have also been completed. Emirates Insolaire continues to receive enquiries for its solar panels from UAE, Qatar, Saudi Arabia, Kuwait, Egypt, Bahrain, Lebanon, as well as from Europe, Asia, the US and Brazil.
Going by the projects on hand, demand and enquiries across the globe, Emirates Insolaire expects sales over 50,000 square metres for coloured solar panels in 2015 alone. Each coloured solar panel can generate above 150 watts electric power per square meter on roofs, or above 110 watts per square meter on façades.
Globally, the photovoltaic market has grown 40% year-on-year and the number of installations foreseen for 2015 is 160 GW - approximately 800 million square meters of glass. The share of Building Integrated Photovoltaic for rooftops and facades is witnessing one of the fastest growth rates.
Rafic Hanbali, Managing Partner of Emirates Insolaire, said: "The completion of Emirates Insolaires first project in Lausanne is a major milestone for the company. With the Kromatix technology, the company has ushered in a paradigm shift in solar applications because of its aesthetic appeal to any building façade and efficiency due to its power generating attributes. The company sees significant growth opportunities going forward not only in the Europe but across the globe."
Kromatix solar panels can supply between 20% and 60% of the needed energy for a building. For certain industries with large roofs and façades, this can go up to 100%. Coming in virtually any colour, the Emirates Insolaire solar panels are optimised for both photovoltaic modules and solar thermal collectors.
Featured Product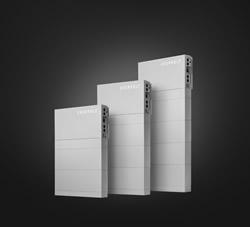 Renewable energy stored in an EVERVOLT home battery system is the perfect backup plan against an uncertain utility grid and weather events. Run key appliances longer and live life when the unexpected happens. EVERVOLT battery storage systems are covered by a complete 12-year warranty from Panasonic.