Mecasolar is supplying solar materials to a 4.5MW solar plant in Antalya, Turkey. The project strengthens Mecasolar's position in the Balkans, where the company plans to develop 30MW by 2017.
MECASOLAR will supply 4.5MW in solar trackers to a new project in Korkuteli, in Antalya Province, Turkey

A total of 47 trackers, using 420 axes of up to 10.8kWp per axis, and 18,960 modules of 240Wp nominal power each, will be installed in this solar power plant located 390km south-west of the capital of Turkey. Delivery will go on through July.
According to MECASOLAR sources, the 140kWp horizontal single-axis tracker is a modular, low-height structure characterised by simple assembly, no welding on location and higher output, which means higher return on investment for solar PV projects.
The pioneering Turkish project strengthens MECASOLAR's presence in the Balkans, where the company plans to develop 30MW by 2017.
Featured Product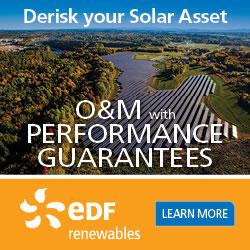 EDF Renewables offers the same innovative solutions that maximize the performance of our own 5.2 GW of installed projects. Because we're not an equipment manufacturer, our recommendations are transparent and data-driven. We cover the entire project lifecycle: from pre-commissioning support, through warranty and post warranty operation, to late stage and decommissioning.