The plant will generate an estimated 26,312 megawatt hours (MWh) per year — enough electricity to power approximately 8,100 typical local households.
Kyocera Corporation (President: Goro Yamaguchi; herein "Kyocera,") announced today that Kyocera TCL Solar LLC, its joint venture with Century Tokyo Leasing Corporation (President: Shunichi Asada; herein "Century Tokyo Leasing"), has commenced construction of a 23-megawatt (MW) solar power plant on an abandoned golf course in Kyoto Prefecture, Japan. The plant will generate an estimated 26,312 megawatt hours (MWh) per year — enough electricity to power approximately 8,100 typical local households*1.

Planned project site of the 23MW solar power plant
In addition to this project, Kyocera and Century Tokyo Leasing, along with two other companies, recently announced that it is also developing a 92MW solar power plant at a site in Kagoshima Prefecture of Japan which was originally designated for golf course use more than 30 years ago but subsequently abandoned. In the United States, several cities in states such as Florida, Utah, Kansas and Minnesota are having public discussion and considering proposals on how best to repurpose closed golf courses. Overdevelopment of golf properties during the real-estate boom of the 1990s and 2000s has led to hundreds of idle courses today that are now under analysis for repurposing or redevelopment. Many of these properties are now being reconsidered as sites for new housing development, parkland and a wide range of other commercial uses, including solar farms. Solar can provide a particularly productive and environmentally friendly use for defunct golf courses, which are characterized by expansive land mass, high sun exposure, and a low concentration of shade trees.
The new plant will become the largest*2 solar power installation in Japans Kyoto Prefecture. The site is located in Fushimi Ward, where Kyocera established its first major solar energy research center in the mid-1970s. This year marks the 40th anniversary of Kyoceras entry into the solar energy business.
Through projects like this, Kyocera hopes to contribute to the expansion of renewable energy and the development of a sustainable, low-carbon society.
About KYOCERA
Kyocera Corporation (NYSE:KYO)(TOKYO:6971) (http://global.kyocera.com/), the parent and global headquarters of the Kyocera Group, was founded in 1959 as a producer of fine ceramics (also known as "advanced ceramics"). By combining these engineered materials with metals and integrating them with other technologies, Kyocera has become a leading supplier of solar power generating systems, mobile phones, printers, copiers, electronic components, semiconductor packages, cutting tools and industrial ceramics. During the year ended March 31, 2015, the companys net sales totaled 1.53 trillion yen (approx. USD12.7 billion). Kyocera appears on the latest listing of the "Top 100 Global Innovators" by Thomson Reuters, and is ranked #552 on Forbes magazines 2015 "Global 2000" listing of the worlds largest publicly traded companies.
Featured Product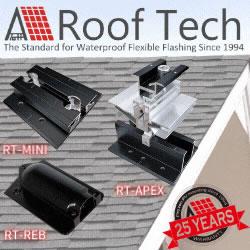 Now Roof Tech brings you the most innovative, watertight mounting systems ever developed for solar photovoltaic systems. Designed and manufactured exclusively for us by Japan's longtime leader in roofing technologies, Roof Tech products are 100% code-compliant and offer fast, simple installation and huge savings on shipping costs due to their compact, rail-less design. Learn more about our full line of versatile PV mounting solutions now available for residential installations. The next generation in rooftop solar mounting solutions."