The Lodge at Chaa Creek hailed Belizes recent commitment to become fully powered by renewable energy, saying it shows that the small Caribbean country is serious about developing an environmentally sustainable future.
San Ignacio, Belize June 30, 2015

The Lodge at Chaa Creek hailed Belizes recent commitment to become fully powered by renewable energy as further proof that the small Caribbean country is serious about its role as a model for environmental sustainability, according to the Belizean eco-resorts owners.
Chaa Creeks co-owner and GM Lucy Fleming said that, by signing on to Sir Richard Bransons "Ten Island Challenge", the Government of Belize is looking to the future while cementing Belizes reputation as a green nation with a strong environmental ethos.
"Authentic eco-tourism is all about both the private and public sector walking the talk, and this new formalised commitment is another example of Belizes seriousness in contributing towards a sustainable future. It also shows that the government and the eco-tourism industry are in synch when it comes to key aspects of Belizes development," Ms Fleming said.
Ms Fleming was referring to the Government of Belizes signing of a Memorandum of Understanding on June 25, 2015 to join the Ten Island Challenge, a joint initiative between the Carbon War Room, a global NGO founded by Sir Richard Branson, and the Rocky Mountain Institute, a non-profit think tank. The Challenge members share a vision to foster
"Economically robust islands, rich with renewable energy systems and committed to becoming completely fossil fuel free," according to the groups website.
Sir Richard Branson and Christiana Figueres, Executive Director of the United Nations Framework Convention on Climate Change (UNFCCC), launched the Ten Island Challenge at the Rio + 20 Summit in June 2014. Current members of the challenge include Aruba, the Bahamas, the British Virgin Islands, Colombian islands San Andrés and Providencia, Dominica, Grenada, Saint Kitts and Nevis, Saint Lucia, and Turks and Caicos and now, Belize.
According to a June 25 2015 report in the Caribbean Journal, some of Belizes initiatives will include the installation of wind turbines, the introduction of electric vehicles into the transport sector and working with Belize Electricity Limited to identify other renewable energy opportunities.
The Caribbean Journal report also notes that only 40 per cent of Belizes electricity is sourced from imported fossil fuel resources.
"We are thrilled to have Belize join the challenge. Belize is a real leader in the region, producing 60 per cent of its electricity from local and renewable hydro and biomass resources," José María Figueres, Chairman of the Board of the Carbon War Room, and the Rocky Mountain Institute, said.
Belizean Senator Joy Grant of the Belizean Ministry of Energy, Science & Technology and Public Utilities, said that, "Belize is extremely pleased to join the Ten Island Challenge. As a regional leader in the use of renewable energy, this partnership with the Carbon War Room and Rocky Mountain Institute will allow Belize to make significant strides in realising its renewable energy production target of 89 per cent in the electricity sector by 2033."
Ms Fleming acknowledged that the target is ambitious, but said that, given Belizes steady development from an agrarian based economy to now having a robust eco-tourism industry that has become a regional model for environmental sustainability, it is certainly possible.
"When you consider how far Belize has come since independence in 1981, ambition seems to be the norm.
"That was the same year we began taking guests at our family farm at Chaa Creek, and from the very outset we felt a strong commitment with many of our colleagues in the nascent industry to develop tourism along environmentally sustainable and socially responsible lines.
"In a small country blessed with such natural wonders it was apparent to many of us that the first priority was to protect Belizes natural resources and to ensure that development was sustainable and contributed to long term social wellbeing.
"And now, with the signing of the Ten Island Challenge MOU, the government has shown that that commitment is still alive in the public sector as well. It bodes well for the future," Ms Fleming said.
The Lodge at Chaa Creek is a multi award winning eco resort set within a 365-acre private nature reserve along the banks of the Macal River in Belize. Regarded as Belizes first eco-resort, Chaa Creek sponsors a range of environmental initiates, including the annual "Eco Kids" summer environmental educational camp and the "Chaa Creek Cares" program, which sees ten per cent of all room revenue going directly into environmental and social programs.
"In a small country like Belize it is readily apparent that it 's in everyones interest to cooperate and work towards a sustainable future. Initiatives such as the Ten Island Challenge show that, at the end of the day, sustainability is actually a global concern, and that cooperation is not only possible, but is growing all around the world.
"Its a great to see Belize actively involved with regional and global partners in meeting the challenges of the future," Ms Fleming said.
Featured Product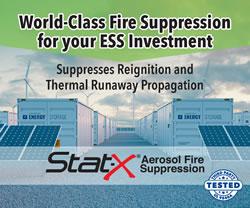 Stat-X® condensed aerosol fire suppression is a solution for energy storage systems (ESS) and battery energy storage systems (BESS) applications. Our Stat-X condensed aerosol fire extinguishing product was tested for efficacy in suppressing li-ion battery fires. It was found that the product successfully extinguished single and double cell battery fires. This testing was conducted in parallel with a large battery fire testing program on behalf of a large energy storage company.