Partnership provides rooftop solar and skills training to underserved communities
PETALUMA, Calif.--Enphase Energy Inc. (NASDAQ:ENPH), today announced a major expansion of its philanthropic partnership with GRID Alternatives, the nations largest non-profit solar installer, helping the organization provide rooftop solar installations and hands-on job training in low-income communities across the United States. The agreement will help drive an estimated three megawatts (MW) of new capacity, save 900 families $25 million in energy costs over the systems lifetimes, and prevent 78,000 tons of greenhouse gas emissions.

Over the last six years, Enphase has partnered with GRID to bring the benefits of solar power to underserved communities through in-kind microinverter system donations and employee volunteer installation hours. Since 2010, the partnership has helped install over 1,900 rooftop arrays with a cumulative capacity of nearly 6MW across California, Colorado, New York, and New Jersey; saving $50 million in lifetime power costs and preventing 150,000 tons of greenhouse gas emissions.
"Enphases expanded donation in 2015 represents a nearly 50 percent increase in our partnerships cumulative impact to date," said Tim Sears, CFO and co-founder of GRID Alternatives. "This partnership has already helped bring the benefits of clean energy to families and workers across the country, and continues to grow with us as we expand to serve more communities and explore new ways to deliver solars benefits to people that need it most."
The Enphase-GRID partnership is best shown in the Hollyhock development of Sebastopol, California. Twenty-four of 29 homes in the mutual self-help affordable housing community have received rooftop systems since 2012, with 125 Enphase volunteers logging over 1,000 hours to install 55 kilowatts of rooftop arrays. Enphase also donated microinverters for GRID Alternatives first community solar array in Colorado this year.
"Continuing our partnership with GRID Alternatives exemplifies Enphases commitment to putting clean, affordable energy on rooftops across America," said Jeff Loebbaka, senior vice president of global sales, marketing and support for Enphase. "Were also proud to play a role in the job training of underserved communities who otherwise may not be able to join the transition to clean energy."
About GRID Alternatives
GRID Alternatives is Americas largest non-profit solar installer bringing clean energy technology and job training to low-income families and underserved communities through a network of community partners, volunteers, and philanthropic supporters. GRID has installed 5,400 rooftop solar systems with a combined installed capacity of 18.5MW, saving $136 million in lifetime electricity costs, preventing 426,000 tons of greenhouse gas emissions, and providing over 21,000 people with solar training. GRID has ten regional offices and affiliates serving California, Colorado, the Mid-Atlantic and New York tri-state regions, and Tribal communities nationwide. For more information, visit www.gridalternatives.org
About Enphase
Enphase Energy delivers energy management technology for the solar industry that increases energy production, simplifies design and installation, improves system uptime and reliability, reduces fire safety risk and provides a platform for intelligent energy management. Its semiconductor-based microinverter system converts energy at the individual solar module level and brings a system-based high-technology approach to solar energy generation, storage, control and management. For more information, visit www.enphase.com
Featured Product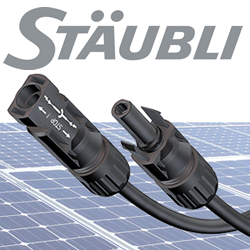 ​Stäubli Electrical Connectors are used on more than 300 GW, over 50% of the PV capacity worldwide. The MC4 family of UL and TUV listed products include connectors, in-line fuses, branch connectors, cable assembly and more.