Intersolar North America on July 14-16, 2015 in San Francisco
DUBLIN, Ohio, July 1, 2015 -- Ginlong Technologies, a world leading string inverter specialist, announces today that it will be presenting exciting inverter innovations at Intersolar North America on July 14-16, 2015 in San Francisco.

The Solis inverter represents a well-respected, value priced brand from Ginlong Technologies, founded in 2005. Since achieving UK G83 certificate in 2006, Ginlong Technologies has led the inverter innovations for the next generation. Ginlong Technologies became the first Asian inverter manufacturer, which achieved UL 1741 certification in 2009.
(Solis Three Phase String Inverter: 4 MPPT New Product Announcement)
Ginlong Technologies will be presenting the industry first four (4) MPPT 30kW and 36kW Solis Three Phase Inverter products, which optimizes the power production at each MPPT level, thus maximizing the energy output. They are ideal for large complex solar installations.
(Solis Single Phase String Inverter: 3rd Party Tested by DNV GL)
In 2015, the Solis inverter became the first batch of inverters, which are 3rd party tested and qualified by DNV GL, the world leading technical advisory service firm. "Testing can provide confidence that the inverters you're using have the functionality you expect. We view that as beneficial to the financial and technical success of solar power plants," said Ray Hudson, solar service leader at DNV GL.
(Ginlong Technologies and AEE Solar Enter into Solis Inverter Distribution Partnership.)
AEE Solar has been a leading solar distributor in the US for more than 35 years. "AEE's mission is to help our customers create a planet run by the sun. Ginlong Technologies' innovative, high-quality, yet affordable Solis inverters help us to further drive down installation costs and thereby grow the available market for large and small solar installers alike," said Antonio Cintra, President of AEE Solar.
(Solis Three Phase String Inverter: UL 1741 Certified and CEC Listed)
The Solis Three Phase String Inverter achieved UL 1741 certification and is CEC listed. The Solis inverter boasts high peak efficiency and ultra-wide input voltage range (200V-800V).
The key features of the Solis Inverter are: Superior Reliability, Outstanding Energy Yields and Excellent Design Flexibility. The Solis inverter has a proven track record of high reliability in the field with over 10 years operating, even in harsh environments. The Solis inverter has unique features of high efficiency, outstanding low irradiation performance for long working hours, ultra-low DC startup voltage and unique string mismatch features. The Solis inverter is compact and light enough for one-person to install. With NEMA 4X / IP65 enclosure that is hose-down and salt spray tested, Solis inverters can operate reliably at virtually any site. The Solis inverter comes with remote data monitoring solutions for any project size. Ginlong Solis inverter is proud of being installed on the Eiffel Tower in Paris in February 2015.
You are welcome to attend our press release conference on July 14th, 10:00am-10:30am, and learn more about the Solis Inverter innovations at Ginlong Technologies, booth 8433.
For more information, visit www.ginlong-usa.com or call 866-438-8408.
Featured Product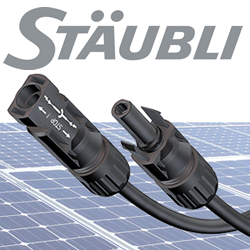 ​Stäubli Electrical Connectors are used on more than 300 GW, over 50% of the PV capacity worldwide. The MC4 family of UL and TUV listed products include connectors, in-line fuses, branch connectors, cable assembly and more.