The 185-megawatt (MW) wind project is expected to be the largest of its kind in the New England area of the U.S.
Belmont, Calif., July 1, 2015 -- SunEdison, Inc. (NYSE:SUNE), the worlds largest renewable energy company, today announced that is has secured financing for and started construction on the Bingham Wind project in Maine. The 185-megawatt (MW) wind project is expected to be the largest of its kind in the New England area of the U.S.

"The Bingham wind farm is our largest wind project in Maine, and once completed should bring our total wind-generation capacity in the state to 552 megawatts," said Paul Gaynor, SunEdison executive vice president of the Americas and EMEA. "SunEdison has made a major commitment in Maines renewable energy future, and that commitment creates new local jobs and incremental tax revenues for the state, as well as long term stable and competitive electricity prices for rate payers. Bingham is a fantastic example of how good policies can create great economic and environmental results."
The financing facility for the combined wind farm and generator lead is for $360 million, and the total construction cost is $420 million. KeyBanc Capital Markets Inc. served as the joint lead arranger and KeyBank National Association (NYSE: KEY) acted as administrative agent on the construction loan.
"We are very pleased to have played a leading role in SunEdisons financing of the Bingham project," said Andrew Redinger, managing director and head of KeyBanc Capital Markets Utilities, Power & Renewable Energy Group. "The Bingham project promises to be an excellent source of renewable power for New England, and were glad it has started construction."
The electricity generated by this wind project will be sold to three local utilities in New England; Eversource, National Grid, and Unitil. The wind energy will be purchased through separate 15-year power purchase agreements that were awarded in a competitive bidding process.
The wind power plant is expected to produce enough energy to power more than 65,000 homes. SunEdison partnered with engineering, procurement, and construction company Reed & Reed on the construction of the project.
"Reed & Reed takes pride in our track record of delivering high value renewable energy projects at competitive prices. The Bingham project brings reliable, renewable energy at low costs to the consumer and creates more than 400 local construction jobs for the people of Maine," said Jackson Parker, president of Reed & Reed.
The wind farm is on the Call Right Project List for TerraForm Power (Nasdaq: TERP), a global owner and operator of clean energy power plants. TerraForm Power intends to acquire this asset once operational in late 2016. Operation and maintenance of the wind power plants will be performed by SunEdison Services, which provides global 24/7 asset management, monitoring and reporting services.
About SunEdison
SunEdison is the worlds largest renewable energy development company and is transforming the way energy is generated, distributed, and owned around the globe. The company develops, finances, installs, owns and operates renewable power plants, delivering predictably priced electricity to its residential, commercial, government and utility customers. SunEdison is one of the worlds largest renewable energy asset managers and provides customers with asset management, operations and maintenance, monitoring and reporting services. Corporate headquarters are in the United States with additional offices and technology manufacturing around the world. SunEdison's common stock is listed on the New York Stock Exchange under the symbol "SUNE." To learn more visit www.sunedison.com.
Featured Product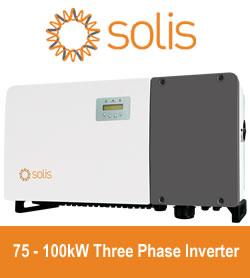 Solis75kW - 100kW series high-power string inverters are widely used in industrial and commercial rooftops. Solis's new three-phase string inverter is the first choice for industrial and commercial photovoltaics. 75-100kW three phase series string inverter have Maximum 28 strings input, support "Y" type connection in DC side. Maximum string input current 13A, support bifacial modules access.Supports anti-PID function to improve system efficiency.