Ecolibrium Solar, a leading supplier of solar racking systems for commercial and residential applications, announces the launch of the new EcoX rail-less racking system. With an organized approach to installation, the EcoX system helps streamline the residential installation process. The system offers adjustability in all directions, and its universal design is compatible with industry standard framed modules ranging from 33-50mm thick. The rail-less concept eliminates large, bulky components, improving shipping costs and on-site logistics. And with pre-assembled components and a low part count, EcoX is a flexible, simple product that helps installers finish each project faster.
Ecolibrium Solar launches new EcoX residential rail-less racking system.

Athens, OH. July 6, 2015
Ecolibrium Solar launches new EcoX residential rail-less racking system.
Athens, OH. July 6, 2015
Over the past 18 months, Ecolibrium has supplied and supported over 150 MW of residential projects with an early design. To develop the new EcoX product, the Ecolibrium engineering team gathered feedback and lessons learned from customers and installations. The resulting system maintains the same installation process, and adds additional features in module positioning and adjustability.
"We gained significant experience working with our customers over the past year, and that really helped us create a product with a great set of features" said Sam Veague, General Manager, Residential at Ecolibrium Solar. "By prioritizing installer feedback while refining the design, our engineering team has delivered a product that is optimized for a fast residential install process, while lowering the overall cost of the system."
To support new and existing customers, the Ecolibrium Solar Field Support team, made up of experienced installers, is dedicated to customer support and on-site training. The team typically works with a new customer on their first few installations to ensure they transition to the rail-less installation process. They are then available for ongoing training and support.
To validate the product, the engineering team conducted extensive testing on the design before launching in the market to ensure the system would last the life of a project. Internal testing was conducted at the Ecolibrium Solar R&D Center in Boulder, CO. Then, final 3rd party validation was completed the Nationally Recognized Test Lab TUV Rheinland PTL, in Tempe, AZ.
EcoX successfully received the full UL2703 certification. This comprehensive certification includes both grounding and bonding as well as mechanical load testing with top module manufacturers. In addition, the system has successfully been certified to the UL2703/1703 Fire Certification, receiving a Class A designation for both Type 1 and Type 2 modules. Finally, the system also successfully passed the ICC-ES AC286/UL441 Rain Test for Roof Flashing, which verifies a waterproof seal at roof attachment points.
The new EcoX system will be on display at Intersolar North America Booth #9445 in San Francisco, CA July 14-16, 2015.
About Ecolibrium Solar:
Ecolibrium Solar® is a market leader in solar racking solutions for commercial and residential rooftops. The company designs and manufactures simple, cost-effective, and installer-friendly products that maximize solar installation efficiency and minimize costs. Our world-class, innovative mounting solutions are delivered with unparalleled service and support by dedicated, expert staff. In the global solar market for innovative, lower-cost, labor-saving racking technology, Ecolibrium Solar provides proven solutions backed by industry certifications and third-party validations.
Featured Product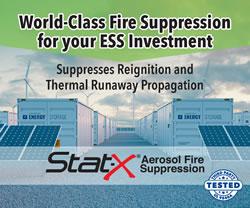 Stat-X® condensed aerosol fire suppression is a solution for energy storage systems (ESS) and battery energy storage systems (BESS) applications. Our Stat-X condensed aerosol fire extinguishing product was tested for efficacy in suppressing li-ion battery fires. It was found that the product successfully extinguished single and double cell battery fires. This testing was conducted in parallel with a large battery fire testing program on behalf of a large energy storage company.