All three projects are interconnected with the local utility, Green Mountain Power.
AES Distributed Energy, Inc. (AES DE) released the following statement today from Woody Rubin, Senior Vice President, commenting on the successful completion of three projects totaling 2 megawatts (MW) located in the towns of Waterbury, Sudbury and Barre, Vermont.

AES DE co-developed the Vermont projects with Green Lantern Capital and MS Solar Solutions Corp., a wholly-owned subsidiary of Morgan Stanley. MS Solar Solutions provided construction capital and arranged for long-term equity financing, while AES DE is the long-term owner/operator.
M+W Group served as the primary Engineering, Procurement and Construction (EPC) contractor for the Barre project, while groSolar served as the primary EPC contractor for the Sudbury and Waterbury projects.
All three projects are interconnected with the local utility, Green Mountain Power, and virtually net metered to six local municipal facilities, ultimately serving school districts, towns and a private college. The 20-year power contracts will deliver clean renewable energy to each energy client at a discounted rate from their traditional electric bills.
We are thrilled to have commissioned these three projects serving local municipal buildings in Vermont. And, we are committed to providing safe, clean and reliable solar power to the Green Mountain Power electric grid for at least the next 20 years.
Featured Product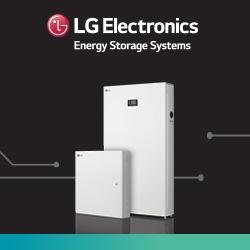 LG Solar is transforming today's solar landscape, offering precision-manufactured and high-efficiency solar panels for homeowners who demand high performance, reliability and consistently strong energy yield from a brand they can trust. LG modules feature outstanding durability, appealing aesthetics and high-efficiency technology, backed by a limited 25-year product, performance and labor (up to $450) warranty. Homeowners who purchase LG Solar modules know they're protected by a diversified global brand.