Hosting "Beers and Solar Financiers" Networking Event at Intersolar
NEW YORK, July 7, 2015 -- Open Energy, an innovative debt finance firm that provides loan capital to solar commercial developers through its unique marketplace lending model, today announced the launch of its new website. Open Energy provides project loan financing and refinancing to commercial and industrial solar developers and asset owners utilizing an innovative, proprietary online borrower platform. The platform simplifies the loan application and funding process for capital and connects lenders with a range of attractive debt investment opportunities. The new website is just the first of several tools that will make the loan process time- and cost-efficient, which, until now, has been a deterrent in the growth of the commercial and industrial sectors.

"The commercial market is primed to grow in an exponential way, and the feedback we have received from developers has been energizing, as they turn to us for solutions in filling this market gap," said Graham Smith, founder of Open Energy. "With Intersolar just around the corner, we are excited to launch our new website and introduce our unique set of tools to help developers obtain the loan capital they need to get their solar projects up and running."
At Intersolar North America, the most attended solar exhibition in the U.S., Open Energy will be hosting "Beers and Solar Financiers," a networking event for investors and commercial solar developers on July 14 in San Francisco. The event will allow attendees to kick-start valuable conversations and learn more about how Open Energy can unlock capital for commercial and industrial solar projects. For additional information about the event, please visit www.OpenEnergyGroup.com.
About Open Energy Open Energy provides innovative financing solutions to support the growth of commercial and industrial solar energy infrastructure. Open Energy's financing approach, utilizing an online marketplace to direct investment, is based on a technology-driven underwriting process. For borrowers, Open Energy offers increased access to capital and a time- and cost-efficient loan application process. For institutional and accredited investors, the strict risk methodology offered through Open Energy's proprietary online platform delivers a choice of renewable energy projects that deliver strong risk-adjusted returns. For more information about Open Energy and its loan technology process, please visit www.openenergygroup.com.
Featured Product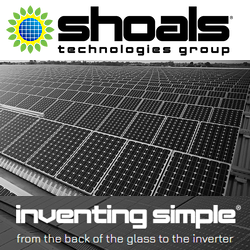 Inventing Simple® isn't just a slogan to us, it's a way of life. Using simple plug-and-play ideology, we revolutionized solar installations in 2003 with our Interconnect System™. Our harnessing system is now the gold standard EPC's use around the world. By using simple ideas, we are making solar energy a more affordable and clean power source for future generations.