Agreement retains Panasonic to build three 500 KWac/ 600 KWdc groundmount projects under Ontarios FIT program
MISSISSAUGA, Ontario--Panasonic Eco Solutions Canada Inc. today announced that it has signed a full Engineering, Procurement, and Construction (EPC) contract with Petawawa Renewable Power Corporation, a developer of Ontario renewable energy projects based in Loretto, Ontario. The agreement retains Panasonic Eco Solutions Canada to build three 500 KWac / 600 KWdc groundmount projects in Ontario under the Ontario Power Authority (OPA)/ IESO Feed-in-Tariff (FIT) programs. Panasonic Eco Solutions expects to start construction from this summer.

"We are thrilled to work with Petawawa Renewable Power and Mark Bell, its Executive Director, whose entrepreneurial spirit shown in the work being done for future FIT and LRP applications has driven them to secure significant development opportunities," said Walter Buzzelli, Managing Director at Panasonic Eco Solutions Canada Inc. "These projects show the success of the renewable energy programs available in Ontario, and we are ready to start building on these projects."
The FIT program was developed for the Province of Ontario to promote greater use of renewable energy sources, including on-shore wind, waterpower, renewable biomass, biogas, landfill gas and solar photovoltaic (PV) for electricity generating projects in Ontario. The three projects that Panasonic will be providing EPC services for stem from the FIT 3.0/3.5 program and are located at Port Carling, Ullswater and Seguin, in the heart of Ontario's Muskoka cottage country.
"After careful consideration, we selected Panasonic because they have a unique end-to-end solution that includes first class guaranteed EPC experience and creative construction financing. They have exhibited incredible flexibility, especially for a large international organization," said Mark Bell, Executive Director at Petawawa Renewable Power Corporation. "Together, we can provide the best overall, project execution and long-term dependability for our site hosts, our aboriginal partners, and the municipal governments that have supported us. We can provide a bankable solution offering the quality you would expect from the leaders in the business."
Petawawas wind and solar projects have won long-term energy supply contracts with the OPA. The companys development portfolio totals over 56 MW of project opportunities in Ontario, including a 29 MW LRP opportunity and a portfolio of FIT4 projects.
Panasonic Eco Solutions Canada is currently engaged in a number of rooftop and groundmount projects in the province, including a recently completed 6 MWdc solar groundmount project in Coboconk, Ontario.
Learn more about Panasonic Eco Solutions Canada by visiting: http://www.panasonic.ca/solar.
About Panasonic Eco Solutions Canada Inc.
Panasonic Eco Solutions Canada Inc. is the Canadian arm of a global team within Panasonic Corporation. Its mission is to become the leader in the deployment of renewable, smart energy systems in Canada. Panasonic provides reliable and bankable, end-to-end turnkey solutions, enabling all the required elements for renewable solar and energy storage initiatives, including full installation, financing, long term assurance and operations and maintenance.
Featured Product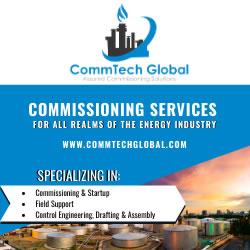 CommTech Global Solutions, LLC, provides professional and reliable commissioning services to customers in all realms of the energy industry. We blend our skills in engineering and technology with innovative business models, offering a complete range of services to assist you for a successful and in compliance operational startup. Consolidation of all our service domains gives our clients a comprehensive set of expertise and far-reaching experience on each project.