Addition of Wind Power RECSs Comes in Tandem with Completion of Rebrand for FiberCloud
Cheyenne, WY July 07, 2015

Green House Data, a leader in cloud hosting, colocation, and managed data center services, today announced the addition of 2,265 megawatts of wind Renewable Energy Credits (RECs) to support sustainability efforts in Washington state.
Since the companys founding in 2007, Green House Data has participated in the US Environmental Protection Agencys (EPA) Green Power Partnership, a voluntary program that encourages organizations to use green power as a way to reduce the environmental impacts associated with conventional electricity use. RECs represent physical electricity associated with a renewable-based generation source.
In Q2 2015, Green House Data acquired FiberCloud, a Seattle-based infrastructure provider with three data center locations along the I-5 corridor, including in the Westin Building Exchange.
These 2,265 megawatt-hours were the final steps in unifying the FiberCloud and Green House Data brands to operate solely under Green House Data, and applying the companys highly efficient environmental standards across acquired data center facilities in Seattle, Everett, and Bellingham, Wash.
"We believe the greenest electron is the one we never use," said Shawn Mills, CEO, Green House Data. "But even as we focus on energy efficiency, RECs ensure we are making an active investment in renewables, especially in carrier hotels like the Westin Building Exchange, where power is sourced centrally."
Green House Data operates 85,000 square feet of data center space nationwide. This year, the company debuted on the U.S. Environmental Protection Agencys (EPAs) Top 30 Tech & Telecom list of the largest green power users. Committed to sustainability, the company powers its infrastructure entirely with renewable energy, practices aisle containment, and uses outside ambient air for cooling whenever possible. This investment brings all three of Green House Datas facilities in Washington in line with the companys commitment to cover every electron with 100% renewable energy credits.
"We wanted to complete the rebrand with this capstone of 2,265 megawatt hours, which is the equivalent of an additional quarters worth of energy usage for our western Washington data centers," Mills said. "We take the 'green in 'Green House Data very seriously, and we are excited to bring our brand of data centers to this new market."
About Green House Data
With data center facilities and cloud installations in Cheyenne, Wyo.; Portland, Ore.; Piscataway, N.J.; Orangeburg, N.Y.; and now Seattle, Everett, and Bellingham, Wash., Green House Data is uniquely positioned to handle new, legacy, and location-based workloads, and offer disaster recovery services anywhere in North America. The company is a certified VMware provider, SSAE 16 Type II and HIPAA compliant, as well as a B-Corp and EPA Green Power Partner. Visit http://www.greenhousedata.com to learn more.
Featured Product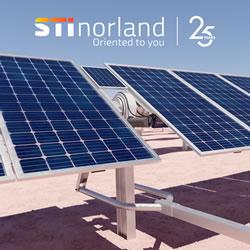 Developed in 2017, the STI-H250™ is consists of two linked torsion beams that rotate simultaneously following the sun's path. They are moved by just one motor, cutting supply and maintenance costs. STI-H250™ dual-row tracker includes backtracking mode to avoid shadowing between adjacent rows and stow function to protect the tracker in extreme wind conditions. For cleaning, vehicles can pass between trackers and each row can be placed in a different position.