Behind-the-Meter Clean Energy System Will Help Arts Center Reduce Greenhouse Gas Emissions, Lower Its Electricity Bill and Improve Energy Resiliency
Fremont, Calif. - July 8, 2015 - Imergy Power Systems, a leader in advanced energy storage solutions, announced today that the Livermore Valley Performing Arts Center will install an Imergy ESP30 series vanadium-based flow battery as part of its new behind-the-meter clean energy system.

The 30 kilowatt/120 kilowatt-hour ESP30 battery, working in conjunction with a SunEdison, Inc. (NYSE: SUNE) 59 kilowatt photovoltaic (PV) solar power system and Gelis Energy Operating System (Geli EOS) software, will enable the arts center to reduce its greenhouse gas emissions, lower its energy costs and improve its energy resiliency.
"We are very pleased to partner with SunEdison and Geli on smart, clean energy solutions like this behind-the-meter project designed to demonstrate how energy storage, in conjunction with solar power and energy management software, can help facilities reduce their environmental impact, cut their electricity bills and become more energy independent," said Herve Mazzocco, Imergy Power Systems Vice President of Business Development.
"This new clean energy system will not only help minimize the centers environmental impact, but will also allow us to spend more of our funding on the arts, and less on energy," said Scott Kenison, Executive Director, Livermore Valley Performing Arts Center. "As an added benefit, we will now be able to keep the theaters lights and other essential equipment on even if the power goes out, meaning that even if the grid temporarily goes down, the show will go on."
"Geli is excited to be working with Imergy to automate and network its ESP30 product in a behind-the-meter solution," said Ryan Wartena, CEO and co-founder of Geli. "Long duration batteries, such as Imergys, will play an important role in a transition to a renewable energy-based economy."
With the new system, the Livermore Valley Performing Arts Center expects to generate approximately 85 megawatt hours of clean energy per year. Using calculations from the Environmental Protection Agency (EPA) Power Profiler and Greenhouse Gas Equivalencies Calculator websites, this clean energy will help the arts center reduce its annual greenhouse gas emissions by an estimated 56,800 pounds of carbon dioxide, an amount equivalent to the:
· Annual greenhouse gas emissions from 5.4 passenger cars.
· Carbon dioxide emissions associated with burning 27,674 pounds of coal.
· Carbon dioxide emissions associated with consuming 59.9 barrels of oil.
In addition to its environmental benefits the new behind-the-meter clean energy system will reduce the amount of electricity the arts center needs to purchase from the grid, helping the arts center lower its utility bill. The new system will also allow the arts center to store electricity
generated by its SunEdison solar system during the day for use at night, helping it lower its peak energy use levels and avoid possible energy demand charges in the future.
Groundbreaking Storage
Imergy Power specializes in a proprietary, vanadium-based flow battery system, the most cost-effective energy storage technology available today. Flow batteries essentially store energy in a liquid electrolyte that circulates between tanks. The simplicity of the design creates a robust and efficient system that may be cycled an unlimited number of times without impact on its lifespan. Integrated power electronics manage the charging and discharging processes, providing customers with a lower total cost of ownership (TCO) than other types of batteries. The unique architecture allows available energy from the system to be scaled up in size by simply increasing the electrolyte volumes. Imergys ESP batteries will also inherently last longer: lithium ion batteries may have to be fully replaced every five to seven years, an ESP system needs only component replacements to achieve 20 years or more of service.
About Imergy Power Systems
Imergy Power Systems is a leader in stationary energy storage solutions using innovative flow battery technology. Its proven Energy Storage Platform (ESP) provides a total solution to reduce energy cost and optimize renewable power generation while improving overall power reliability. Imergy Power Systems is headquartered in Fremont, California, USA, with additional operations in Europe, Asia, and the Americas. The Companys investors include venture capital firms NEA, Technology Partners, and Blue Run. For more information about the company, please visit www.imergy.com or follow us on Twitter.
About The Livermore Valley Performing Arts Center
Livermore Valley Performing Arts Center (LVPAC) provides wide-ranging programs that give access to the arts for the Tri-Valley community and beyond. LVPAC offers a diverse variety of exceptional music, dance and theatrical performances at the Bankhead Theater each year. The Bankhead Theater, the Bothwell Arts Center and Downtown Art Studios are home to ten resident arts companies and over 40 studio artists and cultural arts instructors. Between them, they have offered more than 500 public activities each year, from classes and workshops, to concerts, festivals and performances, including ArtWalk, Evenings on the Green, Art on the Green and extensive educational arts outreach. A list of upcoming performances and events at LVPAC, is available online at livermoreperformingarts.org
About Geli
Geli, short for Growing Energy Labs, Inc., provides software and business solutions to design, integrate, network, and economically operate energy storage and microgrid systems. At its core, the Geli EOS (Energy Operating System) is a software platform that networks distributed energy assets, such as energy storage, on-site generation, EV charging infrastructure, and building controls to optimize system operations and provide low-cost, secure energy to customers. Geli has projects deployed and in development in C&I demand management, commercial and military microgrids, municipal solar & EV charging, and multi-family buildings. Geli is headquartered in San Francisco, California. You can find Geli on the web at www.geli.net and Tweeting at @growingenergy.
About SunEdison
SunEdison is the world's largest renewable energy development company and is transforming the way energy is generated, distributed, and owned around the globe. The company develops, finances, installs, owns and operates renewable power plants, delivering predictably priced electricity to its residential, commercial, government and utility customers. SunEdison is one of the world's largest renewable energy asset managers and provides customers with asset management, operations and maintenance, monitoring and reporting services. Corporate headquarters are in the United States with additional offices and technology manufacturing around the world. SunEdison's common stock is listed on the New York Stock Exchange under the symbol "SUNE." To learn more visit www.sunedison.com.
Featured Product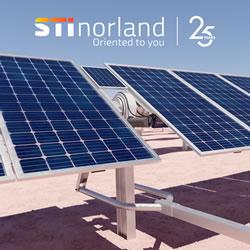 Developed in 2017, the STI-H250™ is consists of two linked torsion beams that rotate simultaneously following the sun's path. They are moved by just one motor, cutting supply and maintenance costs. STI-H250™ dual-row tracker includes backtracking mode to avoid shadowing between adjacent rows and stow function to protect the tracker in extreme wind conditions. For cleaning, vehicles can pass between trackers and each row can be placed in a different position.