RSA systems generate and store energy on-site, make businesses and communities resilient to power failures
Brooklyn, N.Y. May 07, 2015

Three central New Jersey green energy companies have joined forces to develop and operate solar projects that make businesses and communities more resilient to power failures. Called the Resilient Solar Alliance (RSA), the joint venture provides power from clean energy systems at costs lower than available through traditional power sources, its founders announced today at the Intersolar Summit USA East in Brooklyn, N.Y. RSA is a Diamond Sponsor of the Intersolar Summit.
RSA makes innovative solar/battery hybrid energy systems that utilize state-of-the-art software, technology and design. The alliance combines technological know-how, innovative capabilities, business savvy and expertise in government relations and solar advocacy. Innovations developed by the alliance will drive down the cost of PV/battery hybrid systems, while increasing the revenue they create.
The partners are Advanced Solar Products of Flemington, a leading "design, build and operate" solar company; Spano Partners Holdings LLC of Millstone, a veteran solar power developer, project manager and financier, and A.F. Mensah, Inc. of Princeton, which integrates energy storage capacity to solar via battery systems, and trades various attributes of solar-storage systems in electricity markets. Each of the alliance partners is led by an experienced solar professional who is a leader in his field. Together, the managing partners have more than 80 years of experience.
RSA will break ground next month on a solar-plus-storage project for the Evesham School District in Burlington County, New Jersey, that will reduce the school districts energy costs nearly $200,000 a year, totaling almost $3 million in savings over the 15-year term of the contract. RSA will provide on-site power generation and energy storage and will trade services provided by the stored energy on the electric grid. In addition, the energy storage systems will provide backup power in the event of a grid failure, such as during a natural disaster, enabling the district to offer emergency shelter to the community.
Adje Mensah, CEO of A.F. Mensah, explained how the economics of the project work. "RSAs solar-plus-storage systems use batteries to enable electricity market revenues not available to traditional solar power. These additional market revenues offset capital costs that have traditionally hindered the economics of solar-storage. The 'brains of the system is its proprietary, state-of-the-art software that remotely manages and monetizes energy generation by participating in ancillary markets such as frequency regulation and other load management services. RSAs solar-based smart grid and battery storage technologies combine with data analytics to ensure continuous, cost-effective power," he said.
"Providing continuous power during outages enables communities and critical facilities to be energy resilient," said RSA partner Lyle Rawlings. "And being energy resilient means that you can continue providing essential services even when the grid is down." Rawlings is president and CEO of Advanced Solar Products and a leader in the development of renewable policy and legislation. He is also president of the Mid-Atlantic Solar Energy Industries Association.
RSA Partner Jim Spano noted the financial benefits of working with the new company. "Resilient Solar Alliance is developing innovative capital and market structures that can bring resilient solar design to communities at lower costs to ratepayers and taxpayers," said Spano, managing partner of Spano Partners and president of the New Jersey Solar Grid Supply Association.
"During normal operation, the batteries, solar, and smart inverter functions provide a comprehensive set of capabilities that can stabilize the grid and ease the pressures that can occur on local circuits due to solar generation," Rawlings explained. "These capabilities help make the electric grid itself more robust and reliable."
Resilient Solar Alliance is dedicated to building a renewable energy future. For more information, please visit http://www.resilientsolaralliance.com
Featured Product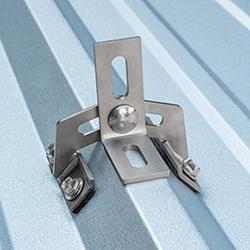 They have been changing the game for 10 years with their original Top Mount line for Asphalt Shingle roofs, and by now supplying one of the widest ranges of solar mounts in North America. From their patented products, to the custom production services they offer, QuickBOLT has been working with solar installers for nearly a decade to make solar installations easier than ever before.