The Project, sponsored by Sky Solar and local company Lafemir S.A. ("Lafemir"), consists of solar plants located in the departments of Paysandu, Salto and Rio Negro in western Uruguay.
HONG KONG, July 9, 2015 -- Sky Solar Holdings, Ltd. (NASDAQ:SKYS) ("Sky Solar" or the "Company"), a leading global developer, owner and operator of solar parks, today announced that the Inter-American Development Bank ("IDB") has approved a $55.7 million loan to finance the construction, operation and maintenance of six photovoltaic solar energy plants and their related facilities in Uruguay (the "Project"). Led by the IDB, The China Co-Financing Fund and the Canadian Climate Fund for the Private Sector, both administered by IDB, will also provide additional loans of $19.3 million and $10 million, respectively.

The Project, sponsored by Sky Solar and local company Lafemir S.A. ("Lafemir"), consists of solar plants located in the departments of Paysandu, Salto and Rio Negro in western Uruguay. With a total installed capacity of 82 MW (70MW AC), the Project will supply an average of 125.4 GWh of electricity per year to the national grid, helping to diversify Uruguay's energy matrix and eliminating approximately 74,000 tons of CO2 emissions per year. The photovoltaic panels will be mounted over fixed steel structures and are expected to be provided locally by a joint venture between Lafemir and an industry-leading manufacturer. "Through this Project, the IDB continues supporting Uruguay in furthering its non-traditional renewable energy capacity, while also promoting use of locally manufactured equipment, professional capacitation and the implementation of a climate change educational initiative," said Jean-Marc Aboussouan, Infrastructure Division Chief at the Structured and Corporate Financing Department, the IDB unit tasked with financing large-scale private sector projects.
Mr. Weili Su, Chairman and Chief Executive Officer of Sky Solar, commented, "We are very pleased to have secured financing from the IDB and its affiliated funds for this major project in Uruguay as we continue to expand our operations and pipeline in the Latin America region. Additionally, we continue to make progress on the 9.5 MW (8 MW AC) already under construction in Uruguay and also remain on track to break ground on one of the largest solar projects in Chile during the third quarter of 2015. Meanwhile, we continue to see significant growth potential in the region, and expect more opportunities beyond our 639 MW pipeline in Latin America. Our focus remains on projects with high returns while securing low cost of capital as we continue to explore new opportunities and expand our pipeline in the region." About Sky Solar Holdings, Ltd. Sky Solar is a global independent power producer ("IPP") that develops, owns and operates solar parks and generates revenue primarily by selling electricity.
Since its inception, Sky Solar has focused on the downstream solar market and has developed projects in Asia, South America, Europe, North America and Africa. The Company's broad geographic reach and established presence across key solar markets are significant differentiators that provide global opportunities and mitigate country-specific risks. Sky Solar aims to establish operations in select geographies with highly attractive solar radiation, regulatory environments, power pricing, land availability, financial access and overall power market trends. As a result of its focus on the downstream photovoltaic segment, Sky Solar is technology agnostic and is able to customize its solar parks based on local environmental and regulatory requirements. As of March 31, 2015, the Company has developed 236 solar parks with an aggregate capacity of 214.5 MW and owned and operated 92.7 MW of solar parks. The Company had 48,753,333 American Depositary Shares outstanding as of March 31, 2015. About the Inter-American Development Bank Established in 1959, the IDB is a leading source of development funding for Latin America and the Caribbean, with a strong dedication to accomplish quantifiable outcomes, increased integrity, transparency and accountability. It has an evolving reform agenda that seeks to enhance development effect in the region.
A routine bank in most ways, it is likewise distinct in some key respects. Besides loans, it also offers grants, technical help and study. Investors are 48 member countries, including 26 Latin American and Caribbean borrowing members, who have a bulk ownership of the IDB. Its Fund for Unique Operations (FSO) provides concessional financing to the most susceptible member countries. Given its investor base and sensible management, the IDB has a strong monetary position, and has the ability to borrow in international markets at competitive rates and transfer that advantage to its clients. About the China Co-Financing Fund The China Co-Financing Fund for Latin-America and the Caribbean, the very first of its kind established by China and a multilateral development bank, will certainly offer capital to match the IDBs own resources for tasks seeking to minimize poverty and reduce inequality, boost personal economic sector investment, enhance competitiveness and social welfare, and support programs to alleviate the effects of climate change and promote greater gender equality. In partnering with the IDB, China wishes to channel its resources towards the development of finance jobs that need added funding to make them viable.
The suggested $2 billion contribution by China will be utilized to co-finance a total of up to $500 million in IDB public sector loans and approximately $1.5 billion for loans made by the Bank to private sector entities. Co-financing fund resources will be used to complement IDB loans, based on pre-established restrictions. The funds from China will be readily available for the next three years for public sector jobs and the next 6 years for non-sovereign guaranteed operations. About the Canadian Climate Fund Together with the Inter-American Development Bank (IDB), the government of Canada has established the Canadian Climate Fund for the Private Sector in the Americas (C2F). The first of its kind for Latin America and the Caribbean, the US$250 million fund aims to catalyze private sector investments in climate change mitigation and adaptation across the region. The Canadian Climate Fund co-finances climate-friendly investments that require concessional resources to become viable. It offers cheaper, longer tenor, and higher risk loans when they are needed to jump-start a project.
Featured Product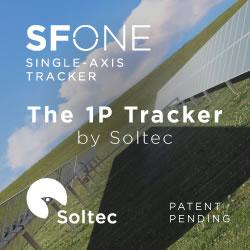 Under the slogan "engineered for greatness", the SF8 tracker aims to revolutionize the photovoltaic market with its new minimum 2x60 configuration and 4 to 6-strings. This tracker is elegantly designed while it reinforces its structure to perform in any terrain. In addition, the SF8 tracker increases the rigidity of its structure by 22% more than the previous generation of Soltec trackers, the SF7. The SF8 is specially designed for larger 72 and 78 cell modules, an increasing market trend.