Steady State Asset Partners is pleased to announce its innovative new approach to investing in renewable energy assets. By leveraging dramatic utility cost savings of geothermal heat pump systems with new equity crowdfunding strategies, clean energy projects are more affordable than ever.
Tulsa, Oklahoma July 08, 2015

Since 2011, the people at Steady State Renewable Energy Company have designed and installed geothermal heat pump systems in Oklahoma and North Texas that provide the ultimate in affordable and reliable indoor comfort all year long. With the launch of Steady State Asset Partners, the company is the first to crowdfund project financing options that offer investors a unique opportunity to provide upfront capital for new geothermal projects, in exchange for annual returns paid from long-term energy cost savings - while also making a positive impact.
Geothermal heat pump systems (GHPs) take advantage of the steady underground temperature of the earth just below the frost line to provide the most energy efficient, environmentally friendly and cost-effective space conditioning system available today - 24/7, rain or shine, all year long. Although the economic fundamentals of geothermal systems are considered superior to solar, wind and other renewable energy technologies, ground source heating and cooling makes up only 1-2% of the overall HVAC market in the United States. Many potential customers understand that they can enjoy dramatically lower long-term utility bills by upgrading to a modern geothermal system. However, the greater upfront cost is the most commonly cited reason for choosing a lower cost conventional system.
"Steady State's expansion into geothermal project financing was driven by hundreds of conversations with property owners, architects, builders and mechanical contractors across the United States," stated Craig Immel, Founder and Managing Member at Steady State. "We are excited to partner with forward thinking investors to offer strategic financing alternatives to our customers." Steady State is currently in discussions with interested accredited investors to fund the initial pilot program, and has created an interest list for future fundraising. "We have had quite a bit of interest in this investment concept," stated Immel.
Geothermal and solar systems are, by their nature, real, productive assets with immediate financial benefits that tend to grow in value as the years go by. Renewable energy equipment leasing is often a smart way for property owners to install on-site clean energy right away, without a large cash outlay, and without carrying large liabilities on the balance sheet. Leasing also allows energy cost savings to begin accruing to the property owner immediately, instead of have to wait through a 3 - 7 year payback period.
"Electric utilities, government and consumer interests are aligning to create a strong market for renewable energy and efficiency solutions at every scale, and we are excited to roll out new ways to make the ultimate in indoor comfort and low utility bills affordable for everyone," said Immel.
Featured Product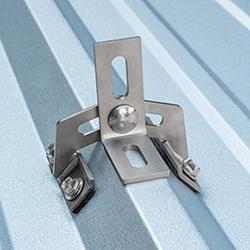 They have been changing the game for 10 years with their original Top Mount line for Asphalt Shingle roofs, and by now supplying one of the widest ranges of solar mounts in North America. From their patented products, to the custom production services they offer, QuickBOLT has been working with solar installers for nearly a decade to make solar installations easier than ever before.