Suncycle establishes solar services for the USA
Suncycle GmbH - the leading provider of testing, maintenance and repair of photovoltaic systems - has established its subsidiary in the USA. Targeted customers include manufacturers of PV components as well as planners, operators, owners, investors and YieldCos. Suncycle USA after-sales services includes solar power system appraisals, field performance diagnostics, system and module repair, refurbishment and recycling. At the Intersolar in San Francisco the newly founded company stages its first official appearance.

The headquarters of Suncycle USA is located in Maryland and will maintain a network of service providers located across the US covering the east and west coasts. Eric Daniels is the appointed CEO of Suncycle USA. Eric`s experience within the solar industry counts more than 20 years includes a variety of senior technical and commercial roles. Most recently he served as regional president for Bosch Solar Energy North America leading PPA financed system and commercial sales. He also served as the CTO for BP Solar where he and his team developed numerous advanced module technologies leading to higher performance and field reliability. As vice president of sales, Eric led global commercial distribution activities.
"Suncycle USA combines the best of two worlds: system operation and maintenance experience, engineering and organizational know-how from Germany with sound knowledge of system and component technology and US markets. We are able to support our clients with cost-effective services yet maintain a high quality standard" underlines Eric Daniels. Managing Partner and co-founder of Suncycle GmbH Dr. Mischa Paterna adds: "With the new branch we follow our international growth strategy also in the US, one of the currently most important solar markets worldwide."
Suncycles unique capability includes development of its own field testing technologies for PV power plants. This includes the Suncycle Compact Test Unit (CTU) - a mobile test laboratory for testing of photovoltaic modules. This makes it possible to determine directly at the project site the electric power (STC performance) of PV modules and identify defects through Electroluminescent EL testing at any time over the life of the system. The CTU lab and the new CTU flexEL allow very quick EL defect detection during the day or night without module removal.
When defects are discovered, Suncycle offers proprietary and certified repair procedures for damaged components. All processes are designed to enable the efficient examination of small and large quantities with minimal site and system disruption. Suncycles capability allows informed system O&M as well as proper appraisals for commissioning and acquisition.
About Suncycle
Suncycle is Europe's leading service provider for after-sales management as well as inspection, maintenance and repair of photovoltaic components and systems. Since 2007, the company has tested and repaired more than 1 GW of modules.
www.suncycleUSA.com
Featured Product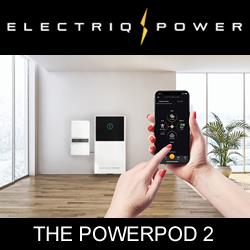 The Electriq PowerPod 2 is a fully-integrated home energy storage, management, and monitoring system powered by LFP batteries. The high-performance, cobalt-free product includes a hybrid solar/battery inverter controlled by intelligent software. The PowerPod 2 provides backup power and can self-consume or export excess power back to the grid.