Amplify Energy helps solar project owners, buyers, and developers to appraise PV project value and optimize production.
SAN FRANCISCO, July 14, 2015 -- Amplify Energy, Inc., a provider of engineering services to solar project owners, buyers, and developers, today at the Intersolar North America show announced that it has commenced business operations at its headquarters in South San Francisco, CA. The new business has been independently spun off from Yingli Green Energy Americas, Inc. ("Yingli"), a partially-owned subsidiary of Yingli Green Energy Holding Company (NYSE: YGE). Yingli is an investor in Amplify Energy, among others.

Amplify Energy helps solar project owners, buyers, and developers to appraise PV project value and optimize production. By using sophisticated performance engineering and its proprietary PVSAT™ software, the Amplify Energy team goes beyond simple monitoring or maintenance to thoroughly analyze production and weather data. The team determines the extent to which performance is meeting expectations, and quantifies its impact on future revenue potential. In addition to performance analysis, the company offers inspection and testing, and consulting services. Amplify Energy is uniquely positioned to assist customers by providing services at the project site or at its headquarters, which serves as a state-of-the-art 3rd party test laboratory complete with indoor and outdoor test facilities.
"We started Amplify Energy to address the gap between expected and actual performance," said Brian Grenko, Chief Executive Officer of Amplify Energy, and former VP of Technology for Yingli Americas. "As the installed fleet of megawatt-scale PV systems in the U.S. has grown from under 3GW to over 13GW since the end of 2012, so has our understanding of how these systems perform. The reality is that, over time, installed systems have typically performed differently than originally modeled. System owners often lack the quality data and analysis tools needed to capture unrealized production revenue when monitoring system performance, which can amount to millions of dollars of lost savings per year per site."
"The competencies of Amplify Energy are based on years of research and development efforts at Yingli's former PV Testing Laboratory," commented Robert Petrina, Managing Director of Yingli Green Energy Americas. "By gaining an advanced understanding of how PV systems operate in the field, the team is well positioned for success. We thank Brian for his years of service at Yingli."
For more information on the company, please visit www.amplifyenergy.com.
About Amplify Energy
At Amplify Energy, we evaluate and improve the quality and performance of solar power generation facilities in order to maximize financial returns for system owners, buyers, and developers. Based in South San Francisco, CA, we provide customized and independent engineering services, including a full suite of on-site and laboratory testing. Our proprietary PVSAT characterization software employs state-of-the-art methodology to analyze the data we acquire in order to compare actual production against modeled expectations, while identifying root causes for underperformance. For more information, please visit amplifyenergy.com.
Featured Product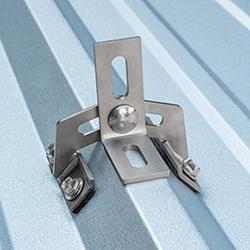 They have been changing the game for 10 years with their original Top Mount line for Asphalt Shingle roofs, and by now supplying one of the widest ranges of solar mounts in North America. From their patented products, to the custom production services they offer, QuickBOLT has been working with solar installers for nearly a decade to make solar installations easier than ever before.