Homeowners Can Now Use Solar Production and Energy Consumption Data to Maximize the Savings from their Sungevity Energy System
OAKLAND, Calif., July 10, 2015 -- Sungevity, Inc., a leading global solar service company, today announced an exciting addition to its Sungevity Energy System offering, the Sungevity Energy Hub. The device wirelessly connects with Smart Meters and is simple to install. It will enable homeowners to track in real time, exactly how much energy their household is using - down to every five to seven seconds. With this information, customers will be able to see when they are using the most energy and connect the dots between their usage, solar production and overall costs. Following on the heels of Sungevity's recent announcement to provide smart energy storage systems to consumers, this latest offering further establishes the company as an industry leader in home energy innovation and service.

"As solar adoption continues to accelerate, homeowners are looking for more than just panels on their roof," said Peter Graf, chief product officer, Sungevity. "We know customers crave transparency and insight that enables them to tailor their energy use for optimal savings - the Sungevity Energy Hub is the tool they've been waiting for."
In addition to increased transparency and real-time insight, Sungevity Energy Hub customers also will receive personalized home energy performance updates to help them interpret and evaluate their energy behavior. Recommendations and benchmarking are offered to ensure homeowners have everything they need to make the smartest decisions for their home and lifestyles. Effective immediately, the Sungevity Energy Hub is included in the Sungevity Energy System for all new Sungevity customers with a Smart Meter in California at no additional cost. Sungevity plans to continue the rollout of the Sungevity Energy Hub to other customers with Smart Meters across the U.S. in 2016.
ABOUT SUNGEVITY
Sungevity is a technology-driven solar energy company focused on making it easy and affordable for homeowners and business owners in the U.S and Europe to benefit from solar power. Leveraging proprietary remote solar design technology, Sungevity can deliver a quote without a site visit and provide prospective customers with visibility to potential savings on their electricity bills. The company continues to grow its customer base and now services 12 U.S. states, the District of Columbia, the Netherlands and Germany. Sungevity is also the residential solar partner to Lowe's, and was recognized by B Corp as one of the "Best for the World 2014" companies for environmental impact. For more information, visit www.sungevity.com.
Featured Product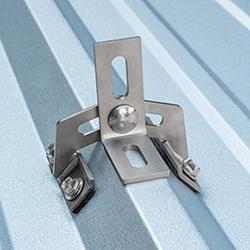 They have been changing the game for 10 years with their original Top Mount line for Asphalt Shingle roofs, and by now supplying one of the widest ranges of solar mounts in North America. From their patented products, to the custom production services they offer, QuickBOLT has been working with solar installers for nearly a decade to make solar installations easier than ever before.