MINNEAPOLIS, MN - July 9, 2015 - tenKsolar ("tenK"), a Minneapolis based manufacturer of high energy density PV systems, today announced that its innovative systems will be used by Standard Solar, Inc., a leading solar energy company specializing in the development and financing of solar electric systems nationwide, for 10MW of competitively bid commercial rooftop projects.

"These projects were among the most competitive weve seen. We are always looking for the most innovative and reliable PV solutions in this dynamic industry. We recently worked with tenK on a very successful project and are looking forward to deploying their DUO system to deliver more energy off the rooftops of these upcoming projects," said Michael Ludgate, executive vice president sales & marketing, Standard Solar.
tenK CEO Joel Cannon added, "Standard Solar took the opportunity to build a small rooftop project with tenK in 2014, gaining knowledge in all the ways that tenK improves solar project economics. We are gratified that our previous success together is translating to this newest 10 MW of rooftop projects."
About tenKsolar
tenKsolar designs, manufactures and markets high efficiency and highly reliable photovoltaic solutions based on its proprietary technology. tenKsolar offers turnkey commercial rooftop solar PV arrays providing the solar industry's lowest energy costs, low-voltage safety and low installation cost. Founded in 2008, tenKsolar is headquartered in Minneapolis, Minnesota. Please visit http://tenksolar.com/.
About Standard Solar
Standard Solar, Inc. is a leading solar energy company specializing in the development and financing of solar electric systems nationwide. Dedicated to making Distributed Generation (DG) solar more accessible to businesses, institutions, governments and utilities, the company is forging the path for clean, renewable energy development through turnkey solutions. With more than 100 megawatts installed or financed since 2004, Standard Solar is one of the most trusted and respected solar companies. Named one of the Fastest Growing Private Companies in America for four consecutive years by Inc. Magazine, Standard Solar operates nationally and is headquartered in Rockville, MD. For more information, please visit www.standardsolar.com.
Featured Product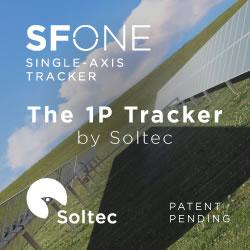 Under the slogan "engineered for greatness", the SF8 tracker aims to revolutionize the photovoltaic market with its new minimum 2x60 configuration and 4 to 6-strings. This tracker is elegantly designed while it reinforces its structure to perform in any terrain. In addition, the SF8 tracker increases the rigidity of its structure by 22% more than the previous generation of Soltec trackers, the SF7. The SF8 is specially designed for larger 72 and 78 cell modules, an increasing market trend.