Innovative program advances Dividend Solars mission to elevate quality standards in solar industry and enables Dividend Solar Partner Network to more effectively hire and train new employees
San Francisco, CA July 14, 2015

Dividend Solar is announcing a partnership with Interplay Learning to offer an innovative solar training program for the Dividend Solar Installation Partner Network. With interactive web-based 3-D simulation training for selling, installing and maintaining residential solar photovoltaic ("PV") systems, this new, unique instruction platform will accelerate the learning curve for aspiring solar professionals.
The platform will feature simulations that enable immersive experiences that mimic real-world interactions for a PV professional using a fully-interactive online interface. Current solar installers can work through hundreds of potential scenarios while aspiring solar contractors can learn the building blocks and best practices of solar installations.
"Dividend Solars collaboration with Interplay adds another layer of quality enhancement and offers a powerful new way for solar installation companies to continue their professional development," says Steve Michella, CEO of Dividend Solar. "We are excited to provide this value-add service to our Partner Network as ongoing training and education is one of the best investments we can make."
Dividend Solar has developed partnerships with quality-focused solar installation companies across the U.S. to offer its $0-down, full-service solar EmpowerLoan. Dividend Solar's Partner Network is comprised of the leading solar installers nationwide, with all installation partners undergoing a thorough quality assurance review as part of the Companys onboarding process.
"For many of our Partners, hiring and training new staff is their biggest challenge in a rapidly growing marketplace," says Christopher Doyle, Dividend Solars Chief Marketing Officer. "Dividend Solar is committed to providing cutting edge tools and resources for our Installation Partner Network. We firmly believe that offering professional education will help our partners further differentiate themselves as the highest-quality installers in the country."
"Unlike traditional online training, Interplay develops products that engage the students to make decisions and learn from their experience," says Interplay Learnings CEO Doug Donovan. "On the Interplay platform, solar installers can spend hours mastering tasks that they may need additional time to practice. We are excited to have Dividend Solar as the exclusive launch partner and will roll out the platform first to their network of installers."
The training platform will ultimately include Electrical Basics Simulation, PV System Performance Simulation, PV Foundations, PV Site Assessment, Advanced PV and a Consultative Sales Skills course. Training courses will meet requirements for students to earn credit required for the 40-hour and 18-hour training requirements for NABCEP certification, and the platform will have the capability to develop custom curriculum specific to Dividend Solars financing products and strategic partners.
The partnership with Interplay highlights the next step in Dividend Solars commitment to improving quality standards in the solar industry. The Company announced the expansion of the NABCEP Company Accreditation Program in March 2015 to enhance workmanship quality, and is actively helping aspiring solar installation professionals acquire the skills needed to work in the solar industry. With the White House and U.S. Department of Energy recently announcing a goal to train 75,000 people to work in solar, Dividend Solar and Interplay are supporting the education of the next wave of solar professionals.
About Dividend Solar
Dividend Solar is a leading solar financing company that partners with local installers across the U.S. to offer its $0-down EmpowerLoan™. With performance guarantees, warranty management and system production monitoring included with every loan, the EmpowerLoan offers a better, simpler way for solar ownership.
http://www.dividendsolar.com
About Interplay Learning
Interplay Learning develops complete digital learning and testing products in professional trades. Interplays performance simulations provide students and training providers a more cost effective, consistent and manageable approach than current methods of training and testing. http://www.interplay-learning.com
Featured Product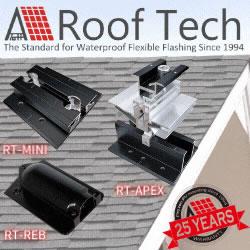 Now Roof Tech brings you the most innovative, watertight mounting systems ever developed for solar photovoltaic systems. Designed and manufactured exclusively for us by Japan's longtime leader in roofing technologies, Roof Tech products are 100% code-compliant and offer fast, simple installation and huge savings on shipping costs due to their compact, rail-less design. Learn more about our full line of versatile PV mounting solutions now available for residential installations. The next generation in rooftop solar mounting solutions."