Completes Qualification of Conductus Wire for Robinson's Roebel Cable
AUSTIN, Texas, July 20, 2015 -- Superconductor Technologies

Inc. (STI) (Nasdaq:SCON), a world leader in the development and production
of high temperature superconducting (HTS) materials and associated
technologies, achieved positive results with multiple superconducting fault
current limiter (SFCL) customers following the Conductus(R) wire evaluation
and testing completed in June and July 2015. The SFCL results demonstrated
dramatic improvement compared to tests completed earlier. In addition, STI
successfully completed qualification testing with the Robinson Research
Institute at Victoria University of Wellington. Conductus wire is now
approved for use in making Roebel cable, a winding cable, which is used in
high-field magnets, transformers, utility-scale generators and large motors.
"As we rapidly approach final qualification, our customers are quickly
providing detailed guidance that we believe will result in Conductus wire
soon attaining all of the performance parameters required for SFCLs," stated
Jeff Quiram, STI's president and chief executive officer. "We believe our
SFCL customers have transitioned from a specification driven pass or fail
testing methodology to a much more collaborative effort that involves
business items such as forecasts, delivery lead times and price. Conductus
wire is very close to passing all tests, and we are encouraged by our
customers' confidence that our wire will be qualified in the next few
months. In parallel, we have initiated business discussions to ensure
product availability matches demand.
"In conjunction with our partner, the Robinson Research Institute, we are
engaged with multiple end use customers that plan to deploy Roebel cable in
superconducting devices. With the successful qualification of Conductus for
use in Robinson's Roebel cable, we believe we are well positioned to
continue to aggressively pursue numerous opportunities in Asia."
Test Description
SFCL customers require Conductus wire to pass extensive engineering models
and electrical testing that simulate characteristics of the wire performance
in the SFCL device. The electrical tests replicate the thermal cycling of
the superconducting wire in high-current operation.
The latest results show that Conductus wire has made significant performance
improvements in this area. Customers verified STI's 550 Amp current handling
performance and recognized that the mechanical properties of Conductus
provide unsurpassed robustness. The goal of SFCL manufacturers is to
standardize on high performance wire that will ensure they have the best in
class product to protect the grid in a majority of existing substations.
About Superconductor Technologies Inc. (STI)
Superconductor Technologies Inc. is a global leader in superconducting
innovation. Its Conductus(R) superconducting wire platform offers high
performance, cost-effective and scalable superconducting wire. With 100
times the current carrying capacity of conventional copper and aluminum,
superconducting wire offers zero resistance with extreme high current
density. This provides a significant benefit for electric power transmission
and also enables much smaller or more powerful magnets for motors,
generators, energy storage and medical equipment. Since 1987, STI has led
innovation in HTS materials, developing more than 100 patents as well as
proprietary trade secrets and manufacturing expertise. For more than 20
years STI utilized its unique HTS manufacturing process for solutions to
maximize capacity utilization and coverage for Tier 1 telecommunications
operators. Headquartered in Austin, TX, Superconductor Technologies Inc.'s
common stock is listed on the NASDAQ Capital Market under the ticker symbol
"SCON." For more information about STI, please visit http://www.suptech.com.
Featured Product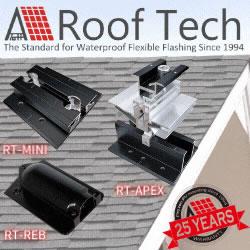 These ongoing webinars cover Roof Tech's background, product design (RT MINI and APEX), code and best practices. You will learn about a proven system that reduces installation time while keeping the integrity of the roofing system. This training will earn you one NABCEP Continuing Education Credit. The webinars are offered every Tuesday from 11 AM PDT to Noon during the months of April and May, 2020.