Five British companies are celebrating today after they have received grant funding from the Governments innovation experts at Innovate UK to develop tidal energy projects with Canadian businesses and universities.
Split across two projects, worth a combined £700,000, the projects will help governments, industry and academia better understand the impact of tidal technology on the marine environment, and the impact of the marine environment on that technology.

The first project involves UK-based FloWave TT, the European Marine Energy Centre (EMEC), and Ocean Array Systems alongside British Columbia-based Dalhousie University, Black Rock Tidal Power and project leaders Rockland Scientific. As part of this project, Rockland Scientific and its partners will develop a new sensor system to measure the impact of turbulence on tidal devices. Improved understanding of turbulence will allow developers to optimize design and deploy technology that can withstand the effects of strong tides and currents.
Stuart Brown, Chief Executive Officer at FloWave said:
"FloWave is really pleased to be able to partner in this project. Our test tank is uniquely capable of replicating both EMEC and the Bay of Fundy at scale and the prospect of new instrumentation, data and analysis techniques that will help the industry better understand and address the challenge of turbulence in the tidal flow, particularly around structures and within projects, is to be welcomed. We very much look forward to working with our Canadian and UK partners over the next three years to help drive this industry forward on both sides of the Atlantic, and globally too."
The second project involves UK-based Tritech International (a Moog Inc. Company), Ocean Sonics, and SMRUs UK and Canada divisions in partnership with Nova Scotia-based OpenHydro Canada, Acadia University and project leaders Emera. This project will develop an acoustic sensing system to improve the detection and tracking of fish and marine mammals at tidal sites in the Bay of Fundy.
The software will be used at the Cape Sharp Tidal berth at the Fundy Ocean Research Centre for Energy, gathering real-time data to assess the impact of its tidal turbine on marine life in the Bay of Fundy, Canada.
Scott McLay, Sales Director, Tritech International Ltd, developers of acoustic technology, commented:
"We are very pleased to be part of this leading-edge project within the expanding renewables industry. Tritech has extensive subsea acoustic expertise and this project allows for further enhancements to a system which already successfully helps classify and track a range of subsea targets"
Todays announcement is the first under the Memorandum of Understanding signed between Nova Scotia and the UK. Two projects have been selected for funding through a partnership between the Offshore Energy Research Association (OERA), a Nova Scotia based not-for-profit research facilitator, and Innovate UK, the UK Governments innovation experts.
Rob Saunders, head of energy at Innovate UK said: "The marine renewable energy sectors in both the UK and Canada, particularly Nova Scotia are very strong. By supporting innovation and collaboration between the two countries we can combine expertise, knowledge and experience to tackle shared challenges associated with tidal energy, and make it a more affordable, low carbon energy alternative while also creating jobs, growth and boosting productivity."
"At Innovate UK we are pleased to be working alongside OERA as Nova Scotia is a growing and large potential market for British tidal energy companies."
Nova Scotia Energy Minister Michel Samson added:
"Canada and the United Kingdom are among the recognized leaders in marine renewable energy and ongoing investments in tidal research spur innovation and development in both countries.
"These projects are an example of how partners from around the world are coming together to better understand the opportunity in our oceans and how to harness their power - safely, effectively, and in an environmentally responsible way."
The project involving FloWave will carry out research in both UK and Canadian waters, including the University of Edinburghs FloWave Ocean Energy Research Facility. This facility hosts a one-of-a-kind, 25-metre diameter circular wave and current tank that holds 2.4 million litres of water. Wave makers on the surface and flow-drive units underneath create currents in multiple directions, mimicking the conditions within tidal energy sites. Testing will also be conducted in Scotlands Orkney Islands at EMEC and in Canadas Bay of Fundy.
This project has recently received the internationally recognized EUREKA Label designation. EUREKA is an EU-based intergovernmental network with associate member nations, including Canada, and supports market oriented R&D and innovation projects. The label will add value to the Rockland project, providing partners with a competitive edge when it comes to commercializing technology.
Oliver Wragg, Commercial Director at EMEC said: "Were delighted to be collaborating with FloWave, Rockland, Black Rock Tidal Power and Ocean Array Systems on this project, which will address some of the shortcomings of existing measurement technologies, enabling developers to better evaluate the dynamic behaviours of the sites in which they plan to deploy tidal energy turbines. If this can be designed into the technologies earlier on, it should reduce risk in the latter stages of development and testing at EMEC."
Nicola Pearson, Commercial Director at Ocean Array Systems said:
"Ocean Array Systems is excited to provide the link between the MRCF TiME project and the OERA/ Innovate UK InStream project.
"Ocean Array Systems will use its EnvironmentStudio and TurbineGrid software to model device-turbulence interaction using test tank and ocean data. This work will provide turbine developers with a direct translation of unsteady loads between conditions at FloWave and those experienced at full scale under turbulent marine conditions."
Featured Product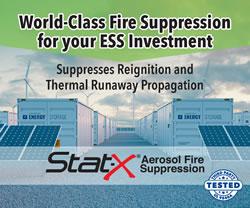 Stat-X® Condensed Aerosol Fire Suppression is a solution for energy storage systems (ESS) and battery energy storage systems (BESS) applications. This includes in-building, containerized, and in-cabinet applications. The Stat-X product was tested for efficacy in putting out Li-ion battery fires. It was found that the Stat-X agent successfully extinguished single and double cell battery fires. This testing was conducted in parallel with a large battery fire testing program. DNV GL Energy conducted the testing and validated effectiveness of the Stat-X aerosol agent on cell level Li-ion battery fires.