Exhibition and conference wraps the 8th annual event in San Francisco, noting growth in energy storage and balance of system segments
SAN FRANCISCO, July 22, 2015-As the United States solar market looks to maintain its record-breaking growth, around 18,000 verified visitors from more than 80 countries filled the exhibition halls of the Moscone Center West and InterContinental Hotel for conference tracks during the eighth annualIntersolar North America,the most-attended solar industry event dedicated to the North American market.The first major solar industry event of the year grew visitor numbers, speaking to the strength of the U.S. market, which is on pace to add up to 8.5 GW of solar in 2015.

"Intersolar returns to California each year because it is the heart of the U.S. market, and years first major solar event to view solar innovations that will drive the industry forward," said Markus Elsaesser, CEO of Solar Promotion GmbH, an Intersolar North America organizer. "As the industry continues to grow and mature, it is importantfor professionals across the solar value chain toactually see and experience industry developments."
On the exhibition floor, visitors viewed the latest products from 521 exhibitors, includingpacked ees™ North America, a special exhibition that showcases the latest technologies in the energy storage value chain. The growth of the solar-paired-with-storage industry was confirmed by an 88 percent increase in exhibition space dedicated to storage companies, plus the more than 30 well-attended presentations hosted on the ees Stage.
"Intersolaris known as the leading venue that brings the latest in technological trends and insights to solar professionals. The shows increased focus on energy storage reflects this commitment," said Daniel Strowitzki, CEO of FMMI International, another organizer of Intersolar North America."This years show floor and conference connected energy storage and solar exhibitors with decisions makers in the U.S. and global solar market to grow the solar industrys strong future here in North America."
"Intersolar North America is becoming one of the most important energy storage events for GILDEMEISTER energy solutions. It is well organized and focuses its conference and exhibition on the latest industry applications. We look forward to attending again next year," said Lars Möllenhoff, CEO of GILDEMMEISTER energy solutions.
In continuing to support the U.S. market with valuable content, Intersolar and the California Solar Energy Industries Association (CALSEIA) debuted a new white paper at this years event titled "U.S. Solar-Plus-Storage Market: Drivers, Economics and Outlook." The comprehensive research, indicating a combined market value of $3.1 billion by 2020, was provided by GTM Research and is now available free at Intersolars website.
Balance of systems, which has tremendous potential for reducing the overall cost of solar, also saw an increase in terms of exhibition space, and grew 12 percent this year. Additionally, the new California Pavilion—sponsored by CALSEIA—saw robust visitor traffic throughout the show, and interest from high-growth companies.
"Intersolar North America 2015 proved to be a productive trade show for NEXTracker, enabling us to reach our customers, partners and prospects in an energizing and electric atmosphere," said NEXTracker CEO Dan Shugar. "Showcasing our advanced tracker on the ISNA exhibit floor helped facilitate customer engagement. With the accelerated demand for our state-of-the-art trackers for distributed and utility scale projects, we found Intersolar to be a worthwhile venue that delivered solid return on investment."
Industry Experts Present on Critical Topics in 47 Conference Sessions
Solar industry executives, policymakers and industry advocates shared insights and discussed market trends during the three days of the Intersolar North America conference. More than 200 speakers covered the major challenges and opportunities facing the solar industry, including how best to continue the impressive expansion of U.S. installed capacity, in 47 panel discussions. Echoing trends from the exhibition floor, all five energy storage sessions were well attended, with panelists often speaking to standing-room only rooms.
The 2015 conference also hosted several sessions featuring solar and energy storage startups. The most popular startup focused event was the Growth Company Circle, dubbed "speed dating for solar." This new, innovative special event sponsored by SunPower was produced in partnership withSfunCube, the worlds only incubator and accelerator dedicated to solar. The Circle provided 30 entrepreneurs with an opportunity to connect with 30 investors and potential customers.
"The Intersolar Growth Company Circle cohosted with SfunCube was an exceptional opportunity for investors, corporates, and entrepreneurs to meet. This was the first time they did it, and it was the most valuable part of the conference for me," said Elena Lucas, cofounder and CEO of UtilityAPI. "For UtilityAPI, I was able to reinforce relationships I already had while identifying people who I wanted to connect further. There were so many opportunities for mutually beneficial relationships."
Additionally, panels on financing and the North American market were very popular and well attended. With uncertainty over the future of solar-friendly legislation, attendees were eager to learn about what to expect in the coming year. CALSEIA and Intersolar offered an entire session dedicated to the federal investment tax credit (ITC), which is due to expire at the end of 2016. In addition to providing updates on efforts within the industry and its advocates to extend the ITC, volunteers also collected signatures for CALSEIAs "Save the ITC" petition. Information on Intersolar and CALSEIAs campaign can be found online.
Featured Product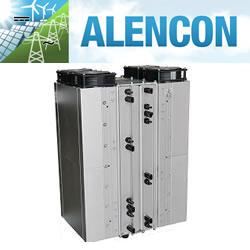 Alencon Systems is the premier manufacturer of high power, high voltage DC:DC optimizers for alternative energy applications including solar, battery energy storage, Microgrids, Fuel Cells and Electric Vehicle charging. Alencon's DC:DC converter offerings include the SPOT, BOSS and CUBE series DC:DC converters. The SPOT is a modular, uni-directional DC:DC solution ideal for solar applications. The BOSS is a modular, bi-directional unit for use with battery energy storage. The CUBE is a monolithic DC:DC converter which is available in both uni-directional and bi-directional modalities. Pictured above, is the Alencon SPOT.