The environmental and economic benefits from this solar farm are significant.
GUELPH, Ontario, July 27, 2015 -- Canadian Solar Inc. (the "Company", or "Canadian Solar") (NASDAQ: CSIQ), one of the world's largest solar power companies, today announced that its wholly owned subsidiary, Canadian Solar Solutions Inc., reached substantial completion on its 100 MW AC (133 MW DC) utility-scale Grand Renewable Solar Project ("GRS"). This project, located in the county of Haldimand, consists of approximately 445,000 CS6X MaxPower high-performance Ontario-made modules, and carries the proud distinction of being the largest operational solar farm in the nation. Canadian Solar provided Engineering, Procurement, and Construction ("EPC") services for the Project, which is jointly owned by Samsung Renewable Energy Inc., Connor, Clark & Lunn Infrastructure, and Six Nations of the Grand River.

The environmental and economic benefits from this solar farm are significant. Not only is GRS expected to produce approximately 170,000 MWh of electricity per year, the solar energy will power approximately 17,000 homes and displace approximately 162,000 metric tons of carbon dioxide emissions over the 20-year period of the power purchase agreement with the IESO. At the peak of construction, approximately 450 local jobs were created, averaging out to about 240 local construction jobs over the building period.
Dr. Shawn Qu, Chairman and Chief Executive Officer of Canadian Solar, commented, "The completion of this utility-scale solar farm, the largest operational one in Canada, is a culmination of three years of strategic business planning, coordinated efforts, and tenacious work on the part of Canadian Solar. We are extremely excited to see this project come to fruition, especially given the solar farm's substantial economic and environmental benefits for Canada."
About Canadian Solar Inc.
Founded in 2001 in Canada, Canadian Solar is one of the world's largest and foremost solar power companies. As a leading manufacturer of solar photovoltaic modules and a provider of solar energy solutions, Canadian Solar has a geographically diversified pipeline of utility-scale power projects. In the past 14 years, Canadian Solar has successfully deployed over 10 GW of premium quality modules in over 70 countries around the world. Furthermore, Canadian Solar is one of the most bankable companies in the world, having been publically listed on NASDAQ since 2006. For additional information about the company, follow Canadian Solar on Facebook, Twitter, LinkedIn, or on the website.
Featured Product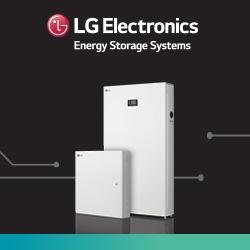 Meet LG Electronics Home 8 Energy Storage System (ESS), a whole home battery backup solution built with installers and their homeowner customers in mind. The ready-to-deploy Home 8 features just one SKU and a modular assembly for fast installation. It can be AC-coupled or solar-powered and is engineered with a grid-connected inverter, four battery modules, and a Smart Energy Box featuring a 7'' LCD touchscreen with commissioning wizard for easy setup. Each Home 8 unit can store up to 14.4 kWh of usable power, helping homeowners gain pure independence from the grid. Plus, installers can connect up to four units, bringing customers up to 57.6 kWh of total backup power-all easily managed and monitored through intuitive mobile apps.