Solar Energy Industry is Adopting the same Breakthrough Technology Already Being Used by Industrial Utilities, Agriculture, and Transportation Industries.
Boulder, CO - July 27, 2015 - As more and more solar PV is being introduced onto the grid, professionals who manage power distribution are challenged to integrate solar energy resources that are difficult to predict. These professionals rely on weather forecasts to balance production and consumption, ensuring they can meet customer demands while avoiding costly energy purchases on the spot market. Efficient production and distribution of solar power resources advance PV technology by helping it achieve cost parity in more markets.

Now PV asset managers have a new source for more accurate localized power production forecasts, based on breakthrough technology that provides 5-day hourly forecasts for available sunlight coupled with the AlsoEnergy PV Production Model. This web-based software service is being brought to market by AlsoEnergy, the top-selling independent solar monitoring provider in North America, in partnership with Global Weather Corporation (GWC), providers of the most accurate weather forecasts in the commercial marketplace.
AlsoEnergy will integrate GWC virtual weather data into their two lines of solar monitoring software, PowerTrackTM and DECK Monitoring. "We are excited to introduce this technology to our clients" says AlsoEnergy CEO and co-founder Robert Schaefer. "This is the best virtual weather service we have ever seen in the solar marketplace, and the first opportunity to see detailed long-term forecasts for power and weather."
GWC has made this possible by commercializing DICast, one of the worlds most effective core weather forecasting technologies. Developed at the National Center for Atmospheric Research (NCAR), DICast software surveys a variety of weather models, statistical data, and observations to produce a point-based weather forecast. Forecasts from GWC are updated hourly, so this service can stay on top of developing weather patterns. This technology can even make hourly predictions for cloud cover and atmospheric particles that diminish available sunlight. A year-long 2014 evaluation by ForecastWatch reported that forecasts provided by Global Weather Corporation had the lowest error for all days-out ranges in the U.S., Europe, and Asia Pacific, using a metric of daily high temperature.
"Like a human meteorologist, our technology continues to learn, constantly validating our forecasts against public and private weather station observations" said Dr. Bill Gail, GWCs chief technology officer and former president of the American Meteorological Society. "This capability, combined with our continued investment in R&D and persistent focus on automation, allows us to deliver the most accurate hourly weather forecasts at any location." GWC virtual weather services are currently being used in a variety of weather-sensitive industries to improve decision making and increase operational efficiency. Represented fields include energy, agriculture, digital news, mobile applications, emergency services, airlines, retail, and transportation.
AlsoEnergy will utilize this virtual weather service to offer all customers a free real-time data feed showing localized irradiance, ambient temperature, and module temperature. Users may also choose to add one or both optional SolarSight packages, which integrate virtual weather data with analytic tools in the software, giving customers the same functionality you would expect from an on-site weather station.
SolarSight Log adds access to localized historical weather data. Some users may find this to be an acceptable replacement for on-site weather stations. SolarSight Forecast combines virtual weather forecasts with the AlsoEnergy production model to provide hourly predicted power forecasts customized to your system specs and to localized available irradiance.
About Global Weather Corporation
Global Weather Corporation (GWC) utilizes proprietary technology to produce the most accurate real-time precision weather forecasts available. GWCs forecasts are tuned on-demand to any specific location in the world and delivered through a scalable web services model. GWC was named as the worlds most accurate temperature forecaster by ForecastWatch; full study results can be seen at http://forecastwatch.com/static/Three_Region_High_Temperature_Study_2014.pdf.
GWC is a privately held company. Intellectual property and commercialization of NCAR technology is accomplished through the UCAR Foundation (UCARF), a non-profit organization chartered by the University Corporation for Atmospheric Research, who are part owners of GWC. For more information, visit: www.globalweathercorp.com
About AlsoEnergy
AlsoEnergy provides monitoring and SCADA systems for solar PV projects and other energy systems. Their company portfolio covers over 3.5 GW of energy production spread across more than 10,000 sites worldwide. AlsoEnergy was named as the top-selling independent PV monitoring provider in North America in the most recent monitoring industry survey conducted by SoliChamba Consulting for GreenTechMedia… full report is available here: http://www.greentechmedia.com/research/report/global-pv-monitoring-technologies-markets-and-leading-players-2014-2018.
Founded in 2007, AlsoEnergy is a privately held company that is rapidly growing to meet demand in the solar energy market. For more information, visit: www.alsoenergy.com
Featured Product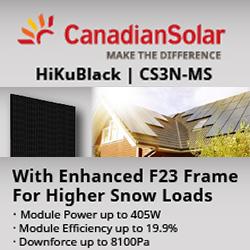 Aesthetic appearance for residential systems: With black backsheet & black frame, Power range 380 ~ 405 W, Low power loss in cell connection. Enhanced reliability: · Low temperature coefficient (Pmax): -0.34 % / °C, LID LeTID less than 2.0%, Lower hot spot temperature, Better shading tolerance.