On June 29, 2015 Ballard Power Systems announced signing of a definitive agreement to acquire Protonex Technology Corporation (www.protonex.com), a private company headquartered in Massachusetts and a leading designer and manufacturer of advanced power management products and portable fuel cell solutions. This transaction is an exciting step in the execution of Ballard's journey to a sustainable business model with high growth and profitability.
July 29, 2015

VANCOUVER, CANADA and SOUTHBOROUGH, MASSACHUSETTS - On June 29, 2015 Ballard Power Systems announced signing of a definitive agreement to acquire Protonex Technology Corporation (www.protonex.com), a private company headquartered in Massachusetts and a leading designer and manufacturer of advanced power management products and portable fuel cell solutions. This transaction is an exciting step in the execution of Ballards journey to a sustainable business model with high growth and profitability.
The Deal
As consideration for the transaction - valued at $30M - Ballard is assuming and paying Protonexs debt obligations at closing, currently estimated at approximately $4.4M, and paying the balance of approximately $25.6M through the issuance of 11.2M Ballard shares. The deal is expected to close in Q3 2015.
Strategic Fit
Ballard is moving to become a 'clean energy company, with an array of complementary power products solutions to satisfy the clean power needs of our customers. This objective will be reached through organic growth in the Companys current markets as well as through strategic M&A activities, with acquisition opportunities that -
• Are complementary to our customer-centric Power Product markets;
• Add at least $15M in revenue, to support achievement of scale;
• Accelerate profitability;
• Provide exposure to complementary investment themes; and
• Are financially accretive.
Protonex meets all these criteria. The overall benefits of the Protonex acquisition relate to the following four key areas -
o Diversification - with the acquisition of Protonex Ballard adds 'power management products, along with complimentary small-scale
portable fuel cell products, to our already extensive Power Products portfolio.
In addition, Protonex has successfully developed strong relationships within the U.S. military procurement complex. We believe
there are adjacent sales opportunities for portable fuel cell power products to this same customer group. We believe that the
advantages of fuel cells, including power density, reliability, low noise and low thermal profile provide significant value for military
applications.
o Growth - Protonex has enjoyed an overall revenue compound annual growth rate of 22% since 2011, and anticipates significantly
higher growth in 2016.
o Scale - with the addition of Protonex, Ballards consolidated revenue will show strong top line improvement after closing. We
currently forecast Protonex to contribute approximately $5M of consolidated revenue in 2015 and approximately $20M of
consolidated revenue in 2016.
o Profitability - Protonex generates high margin revenue - in the 40% range - that will positively impact Ballards top line and
bottom line, ultimately moving Ballard more rapidly toward positive earnings.
Protonex Background
Protonex operates out of a leased office and manufacturing facility in Southborough, Massachusetts, with 53 employees. The facility includes 17,000 square feet of space dedicated to product development, state-of-the-art testing capabilities and lean manufacturing.
Military Market
Through its 15-year history, Protonex has focused on the development of a suite of power management and power generation products that are among the smallest, lightest and most capable systems for extreme applications. This has made the U.S. military an ideal early-adopter target for its portfolio of products.
With the militarys increasing use of electronic technologies - including sensors, radios, GPS systems, cell phones, computers and other devices - legacy power solutions, such as batteries and generators, are simply not up to the task. This transition to the "digital battlefield" has presented tremendous challenges for the military from a power and energy management perspective.
Power Management Products
Power management products have been the engine of growth at Protonex over the past several years. These products facilitate soldiers ability to power a variety of key communication and navigation tools from a wide range of power sources … including solar, vehicles, fuel cell or others. Protonex products increase mobility and flexibility for soldiers, thereby making them more efficient and reducing the need for fuel and battery transport.
Specifically, a power manager device -
• Manages and prioritizes battery usage;
• Powers man-worn and man-packable gear;
• Recharges military and commercial batteries;
• Optimizes alternative sources;
• Monitors power sources and loads;
• Dynamically adjusts to changing mission needs;
• Automatically identifies connected devices and self-configures for optimal operation;
• Logs all energy generation and usage for accurate mission planning and analysis.
Simply put, a power manager device allows the soldier to power any device from any available power source.
Protonex power management products include -
• The Squad Power Manager - or SPM 622 - this provides up to 150 watts of power from vehicles
or solar sources in order to charge multiple devices at one time for an entire squad, consisting
of up to 9 soldiers. This product also provides a graphical display to show power trends and it
permits advanced configurations. Protonex has shipped approximately 4,000 SPM units in total
to date - a significant number in the short period since the initiation of field testing activities with
the U.S. military.
• The Vest Power Manager - or VPM 402 - this meets the needs of the U.S. Air Force, Marines
and Army for power management at smaller power levels, for use by an individual soldier.
The VPM 402 can be linked to the SPM 622, allowing products to work in sync, while supporting
other handheld or man worn devices such as radios, GPS, shot detection, and so on. This
product has completed trials and is expected to result in meaningful sales in 2015.
• Protonex received funding from the U.S. Marines to develop the Advanced Battery Charger
… a more cost-effective and higher throughput device than legacy systems. This device is in
trials now.
Fuel Cell Products
In addition, Protonex offers several portable fuel cell products in the sub-1 kilowatt power range, utilizing PEM and SOFC technologies. Protonex has focused on the development of high performance power systems for applications where traditional battery or generator solutions limit functionality.
A key application for Protonex fuel cell products is in powering Unmanned Vehicles. Unmanned Aerial Vehicles, or UAV Power Systems are moving from flight demonstrations to deployable products now. Protonex fuel cell technology has been utilized to increase flight endurance over batteries and increase reliability over traditional small engines.
In fact, Protonexs Navy partner set an unofficial UAV flight record of 48 hours …. an increase in flight duration of 13-times compared to the best lithium batteries of equivalent weight. Rapidly growing interest in commercial uses for UAVs suggests that this will be an important application enabling significant growth as we move forward.
Protonex also has an SOFC-based product that runs on propane fuel, to complement existing battery and solar installations. This product is in the early stages of deployment.
Financials
From a financial perspective, Protonex has experienced a 22 percent top line compound annual growth rate since 2011, with total revenue growing to 13.8 million dollars in fiscal year 2014, which ended on September 30th, 2014. We anticipate an increase in this rate of growth as the U.S. military adopts power management products as a standard requirement on a widespread basis and also adopts fuel cell products to power the growing deployment of unmanned vehicles.
Over the 2011-to-2014 period, Protonex product revenue grew as a proportion of total revenue from about 15% up to about 55%, with the remainder of our revenue coming from contract and services work.
Within the product segment, the vast majority of Protonex revenue today comes from the power management portfolio - power management products are expected to account for more than 80% of total product revenue in 2015. Sales of power management products to the U.S. military are expected to continue growing, laying the foundation for future sales of fuel cell products.
Protonexs Gross Margin in fiscal year 2014 was 40% and, for the first time, the Company generated positive EBITDA.
About Ballard Power Systems
Ballard Power Systems (NASDAQ: BLDP; TSX: BLD) provides clean energy products that reduce customer costs and risks, and helps customers solve difficult technical and business challenges in their fuel cell programs. To learn more about Ballard, please visit www.ballard.com.
Featured Product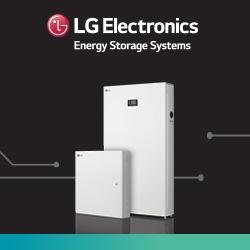 LG Solar is transforming today's solar landscape, offering precision-manufactured and high-efficiency solar panels for homeowners who demand high performance, reliability and consistently strong energy yield from a brand they can trust. LG modules feature outstanding durability, appealing aesthetics and high-efficiency technology, backed by a limited 25-year product, performance and labor (up to $450) warranty. Homeowners who purchase LG Solar modules know they're protected by a diversified global brand.